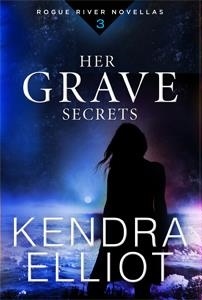 Her Grave Secrets (Rogue River #3)
By:
Kendra Elliot
Website:
https://www.kendraelliot.com/home/
Release Date:
November 4th, 2014
Publisher:
Montlake Romance
Series:
Rogue River
Rating:
We're back in Solitude, Oregon and things aren't as peaceful as the town name implies (of course). When a skull is found on the Rogue River banks Stevie and Zane are rushing to piece all the clues together before more victims fall and before the spread of the drug takes over their town.
We learn more about Zane and see more of the Taylor clan at large which is a nice pace break when needed in this novella. Still the action is fast and the story is interesting enough to pull me in when there are so few pages. I have to give Leigh & Elliot credit as they balance their own styles and focal points of their books in the series so well that it leads seamlessly into the next, changing hands between the two authors.
The shocking reveal of who the skull is, along with what it may mean for the cliche quiet town amps up the urgency in this installment of the novella series. We're definitely at that point where I can't say much without giving a huge spoiler and, well, a spoiler for a novella feels like cheating, doesn't it?
My rating for this novella is higher than the previous and while I deifnitely enjoy both Melinda Leigh and Kendra Elliot I admit I've read more by Elliot and that the characters of Stevie and Zane interest me more than Carly and Seth. The one downfall of the novella, especially a series like this, means I don't get the same opportunity to fall for all the characters. Still, the compatibility and flow between the authors continues to impress me. And if you've read the first two novellas, why not pick up the third (and eventual fourth) to see how it all ends? I know I'm already done with the fourth novella and it was a nice way to round it all out, I think.