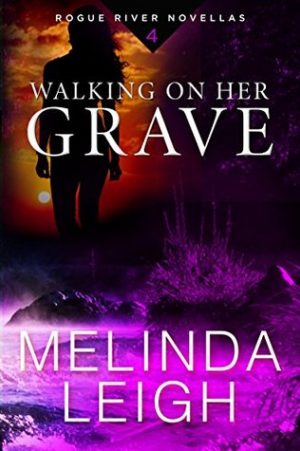 Walking on Her Grave(Rogue River #4)
By:
Melinda Leigh
Website:
https://melindaleigh.com/
Release Date:
November 18th, 2014
Publisher:
Montlake Romance
Series:
Rogue River
Rating:
This, ladies and gentlemen, is how you round out a series! I have to say that while I tend to lean toward the characters in Kendra Elliot's half of this novella series I was pulled in immediately by Melinda Leigh this time and the final book in the novella series. If you've read novellas one through three already, go ahead and finish the series. If you haven't read any start with number one, you won't regret it.
The pace in this book is fast, I was turning pages quickly and I was especially pleased by how fast the plot moved.
The story line continues to focus on the lethal drug, C-22, and the lives it is destroying in the small town. Carly and Seth are the focus here once more and we see how they struggle to respect each other's decisions and job while doing their own work. A runaway teen and dead bodies means that nothing will end easily here in Solitude, Oregon and, as fans of thrillers and romantic suspense, do we want it do be easy?
A lot of things come full circle and while I've seen other reviews stating that they wish the story had gone on a bit longer (and maybe been a novel rather than a novella) I have to disagree. I came into this series knowing it was all novellas and that it was only a snapshot of the town and, setting that expectation for myself, I dove in knowing I might not have every single answer to every single question but that the big ticket items were answers. And they were.
Really, what more could a novella reader as for?