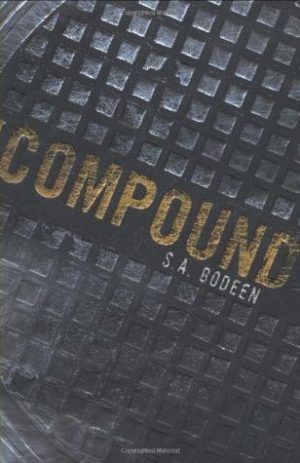 The Compound
By:
S.A. Bodeen
Website:
https://www.writersabodeen.com/
Release Date:
April 29th, 2008
Publisher:
Feiwel and Friends
Rating:
I picked this book up off of one of those "Blind Date With A Book" tables at Barnes & Noble. The description of this book read "Let's build a fortress to protect our family. Oh shit! We can't get out!" That, along with the genre of YA being marked on the wrapped book I decided it could be interesting. Purchasing the book (along with a stack of others) I came home and opened the gift I'd given to myself, hoping it was the right choice off the table.
When I saw the cover of The Compound staring up at me I was intrigued. I knew I'd seen the book in the store before but didn't know much about it so I flipped the book over and read the synopsis on the back learning that this was the story of a boy named Eli who, along with most of his family, was living in an underground bunker of sorts that was created by his father years ago. Now, having been underground for six years the carefully created safe haven is not so safe afterall.
I admit while I liked the concept of the book and I really enjoyed moments in it wasn't in love with the characters and not connecting to any of them, not even Eli, really made this book a struggle to read. Instead of connecting to them and being concerned I was mildly intrigued to know how things would play out. When the plot shifted and it was "go time" for things to happen I did become a bit more interested, if only because there was so much action going on I needed to be invested to track what was happening.
Overall this was a good book and I may pick up book two, The Fallout, eventually but it isn't a top priority right now. If you like dystopian novels you may want to give this a shot. Even if I didn't fully connect with the book it was still a pleasant enough read.