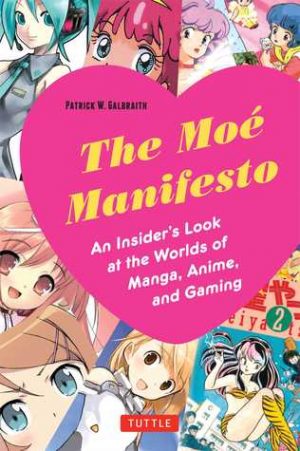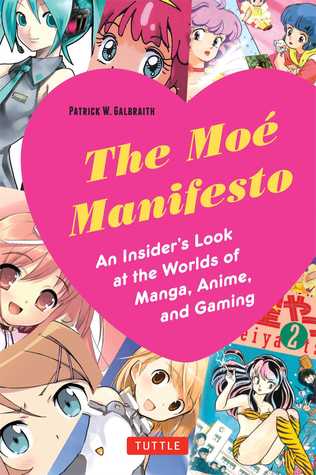 The Moe Manifesto: An Insider's Look at the Worlds of Manga, Anime, and Gaming
By:
Patrick W. Galbraith
Release Date:
June 24, 2014
Publisher:
Tuttle Publishing
Rating:
If a look at moe and anime culture is something you're interested in, The Moe Manifesto: An Insider's Look at the Worlds of Manga, Anime, and Gaming by Patrick W. Galbraith is book you'll want to flip through. Galbraith holds a PhD in Information Studies while pursuing a second PhD in Cultural Anthropology. Several other anime and manga nonfiction books have been authored by him as well.
Moe is a term that many anime and manga fans will recognize, but may not be so easily able to define. It's something everyone generally knows, whose definition most sort-of agree upon, and can be difficult to put into words. The goal of this book is to shed a little light on the subject, as well as anime and manga culture in general.
The book opens with an introduction by Galbraith on the subject matter. After this, however, we hear extremely little from our author. The majority of the book is constructed of interviews between Galbraith and various creators, industry professionals, or cultural or professorial individuals. Plenty of full-color images with footnotes are also included, which nicely support and enhance the contents of each interview by giving much needed visuals to certain topics discussed.
The interviews are, largely, quiet interesting. A variety of topics related to moe, otaku, and anime and manga in general are delved into. Many well-known voices are included and have very interesting – and sometimes contrasting – things to say on the subject. The history of anime is delved into. Cultural aspects western readers may not be familiar with and how those aspects have changed over time in Japan are also explored.
However, the book does cater towards those who already have at least some understanding of anime, manga, or gaming culture. There are no real, thorough introductions to different topics prior to a new interview or topic. Explorations into various aspects of the topics discussed aren't always grouped into cohesive sections, either. Those who do have a love of anime, manga, or Japanese video games will probably get more out of this than other readers.
That aside, there are very strong, interesting voices here. People whose names might not be as well-known to casual viewers, but who have led the industry towards what it has become today. In that aspect, I did quite enjoy hearing what they had to say about the topic.
In all, I couldn't help but wish there was more exposition by Galbraith or some sort of thesis statement to grab onto. Alas, there is none. However, the interviews alone are well worth a look for those already interested in moe or anime culture. The Moe Manifesto: An Insider's Look at the Worlds of Manga, Anime, and Gaming by Patrick W. Galbraith was an interesting if quick read and well worth a few hours of distraction in our quarantine times.