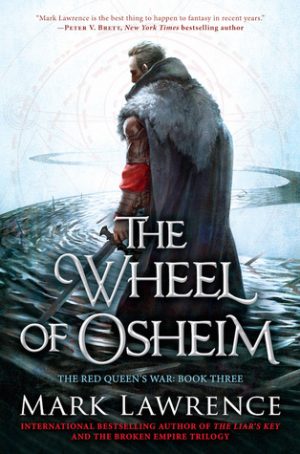 The Wheel of Osheim (The Red Queen's War #3)
By:
Mark Lawrence
Website:
https://www.marklawrence.buzz/
Release Date:
June 2nd, 2016
Publisher:
Harper Voyager
Series:
The Red Queen's War
Award:
David Gemmell Legend Award Nominee for Best Fantasy Novel (2017), David Gemmell Ravenheart Award Nominee for Best Fantasy Cover Art (2017), Goodreads Choice Award Nominee for Fantasy (2016)
Rating:
What is more pleasing than loving an entire series from start to finish? The fact that it is actually finished. Yes, I am joining in the bashing of George R.R. Martin but not for sport, only to say that I need resolution to characters and stories I've grown attached to.
When I realized this series was a trilogy pulled from the same world where Lawrence's other books hailed from I was worried. So worried about falling in love with character whose ultimate end I may not find out anytime soon. So upon seeing this book, The Wheel of Osheim was listed as the final book in this trilogy at the time of my reading this series (as there is now a novella out that has landed on my to be read list)I was very relieved that the characters of Jalan and Snorri were going to finish their story.
And what an end to the story it was!
We return to Jalan and Snorri with two opposing actions going on. Snorri, desperate to save his family, is risking everything to bring them back from death while Jalan is desperate to escape, with Loki's Key in hand, and get back to his world of comfort, far away from the hard times he's faced while traveling with Snorri.
It is impossible to discuss this book without giving out spoilers for any part of the series so I'll stick to my tired and true method of leaving you with a quote that hopefully encourages you to keep going in the series.
He raised his head, staring at me beneath the black veil of his hair, unreadable, capable of anything. "I . . ." His first word to me since we parted in Hell. It had been months for me—how many lifetimes would it have felt like in that place? From the darkest corner of the hall a dead man rose from beneath a tapestry—some victory picked out in silver thread, now smeared with blood and foulness. He charged toward Snorri's back, trailing the embroidered cloth like a banner. Snorri lashed out to the side, almost without looking, his axe an extension of his arm. The man's head flew clear; his body stumbled, and collapsed. "I am at peace," Snorri said, and walked over to clap me in a warrior's embrace.
I adored this series and as it was my first experience with Mark Lawrence I have to say I'm not a huge fan. I will be going back and reading The Broken Empire series and then continuing on to his other works. If you like fantasy novels and have enjoyed book one and two of this story so far, go read book three and give yourself that wonderful feeling of loose ends being tied up and resolution coming to the stories of the characters you've grown to love.