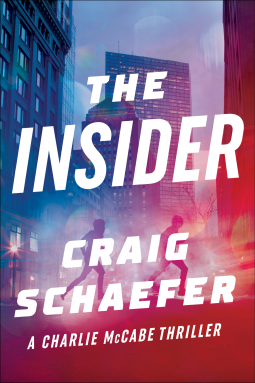 The Insider (Charlie McCabe #2)
By:
Craig Schaefer
Website:
http://craig-schaefer-v2.squarespace.com/
Release Date:
July 7th, 2020
Publisher:
Thomas & Mercer
Series:
Charlie McCabe
Rating:
This might sound a tiny bit dramatic but I don't care. Craig Schaefer, will you be my Yoda? You, sir, consistently allow me to escape into the worlds you create and have so many amazing plot twists, characters that grow and in general fantastic writing and it makes me stare at my own writing and wonder how I can be more like you.
ANYWAY…. now for my much more professional review of the upcoming second book for The Insider. In this installment we see Charlie, Beckett and Dom return to protect the clients that hire Boston Asset Protection. The story starts of with Lincoln Gable as the client, a run of the mill idiot who enjoys talking crap and stirring up drama on his book tour. Soon (and I cannot stress how relieved I was that I wasn't going to spend the whole book with Gable) Charlie and her team are brought on to the protection detail of Hayden Cobb, a key witness in the trial against three cops. These three cops are on trial for murder and are known as the East Boston Three but there is a problem. It seems like there may have been a fourth member to the group and the trio aren't talking. Maybe I was relieved by the new distraction in the form of Cobb too soon.
It's up to Charlie, Beckett and Dom to find answers while protecting both of these idiots. Gable has paid for protection and is using every mob attack for media coverage and Cobb isn't sharing the full truth which may end up getting him, or others, killed.
If life couldn't get more complicated we also see the return of Jimmy Lassiter through some chaotic plot twists that put Charlie and her father on the line once again. You'd think three problems (two bad clients and Lassiter in the wings) Charlie would be at her wits end. Well, she is. We go one step further into Charlie understanding that life is an insane, twisted merry-go-round when she simply states; "I'd say one crisis at a time, but life never really cooperates."
However that didn't stop Schaefer from introducing us to one other new player in the game and honestly Nina reminds me of some of Schaefer's other chaotic characters, specifically she reminds me of Caitlin from Schaefer's Daniel Faust series, so if you're looking for yet another character in this series to have on your radar and watch out for, Nina is Schaefer's gift to us readers.
With a great pace, incredible plot and further character development not only for Charlie but for Dom, Beckett and even to a lesser extent Charlie's father and Jimmy Lassiter, you won't be disappointed with book two.