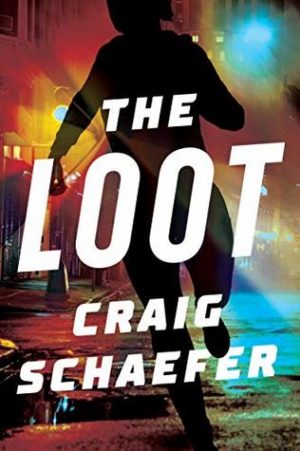 The Loot (Charlie McCabe #1)
By:
Craig Schaefer
Website:
http://craig-schaefer-v2.squarespace.com/
Release Date:
August 1st, 2019
Publisher:
Thomas and Mercer
Series:
Charlie McCabe
Rating:
This should really go without saying at this point but I adore Craig Schaefer. When I saw this new book come out last year and I realized it was mystery, thriller and no magic I was intrigued. I mean, come on, Craig Schaefer is the brilliant man that brought us Daniel Faust, Harmony Black and the Revanche Cycle. When I saw this story didn't hold a hint of magic, urban fantasy or anything in that realm I was curious. Obvious I'm a crime/thriller/mystery fan. So how would one of my favorite fantasy writers match up in a genre devoid of fantasy?
He blew the roof off.
I know, easy for me, a fan, to say. In all seriousness though Charlie McCabe is a worthy main character, a badass with flaws and strengths, completely human and completely believable.
As a newly honorably discharged soldier, having served her country and finished that part of her life, Charlie returns home to the Boston area and is looking to figure out what's next. With years spent diffusing bombs (an explosive ordinance disposal expert) she can handle the high pressure that most of us would faint over. When she returns home she finds that life hasn't changed that much, especially where her gambling addicted father is concerned. He's in deep with a bookie, twenty grand deep, and Charlie is desperate to keep her father safe, from the leg-breakers and himself.
Finding work as a bodyguard Charlie meets a slew of characters that quickly become vital to her life at home in the states. Chief among them is Dom and Beckett, Charlie's first friends and colleagues in this new venture as they protect a CEO of a mining company (Sean Ellis) whose bad business decisions lead to the death of thirty miners. With her new company Boston Asset Protection assigned to keep him safe the job is complicated by Ellis hiding things from those charged with protecting him.
Digging deeper Charlie and her friends discover a connection to a years old diamond heist and it's a race against time as they try and keep Ellis alive, even if everything he does puts himself in more danger. As time runs out and tough calls need to be made Charlie and her team must make a move and hopefully one that gets all of them out alive.
Charlie is likable, tough, flawed and a total bad ass who understands the facts of life in a different way. Everything is still battlefield math and she has to make calls that I would never be able to make in a training scenario. Dom and Beckett are the perfect secondary characters to help Charlie out as they bring a different set of skills and prove that no one can do things alone.
Thinking back on it, Charlie supposed she'd spent her entire life fighting other people's wars, for love or for money. As much as she'd denied it at the time, Saint was right about her. Charlie was a mercenary.
If you love Craig Schaefer's writing and are curious about this new genre for him I encourage you to check it out. Book two, The Insider, is due out in early July of this year. I am currently plowing through my ARC copy (thank you Netgalley!) so expect me to have a review up for that soon. So far, I'm still so in love with these new characters and I can't begin to express how exciting this new series is. Give it a chance, you won't be disappointed.