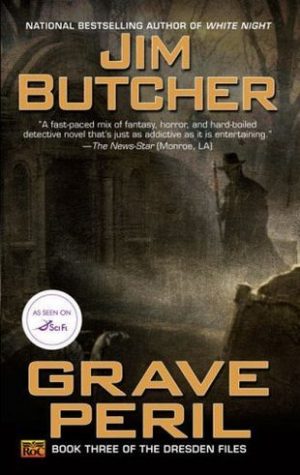 Grave Peril (The Dresden Files #3)
By:
Jim Butcher
Website:
http://www.jim-butcher.com/
Release Date:
September 1, 2001
Publisher:
Roc Books
Series:
The Dresden Files
Rating:
We're back with Harry Dresden and I am still loving it. What more can I say? I'm hooked.
So about a year after Fool Moon we see a few things I was happy to see. Harry and Susan are a couple and, despite his continued struggled to save people, Harry does seem a smidgen happier throughout this book. Let's chalk it up to Susan having a positive influence on his life. It was nice to see a slightly happier version of Harry. 
At this point I am a few books ahead in my reading of the series so I love the characters we're introduced to in this book, particularly Michael Carpenter and the rest of his family. Michael is a Knight of the Cross who assists Harry in his missions to save people. We first meet Michael as he and Harry are saving babies from an evil spirit in the maternity ward at a local hospital.
We see in this book Harry's devotion to his friends and the people he cares about. We know from previous books about this dedication but in this book we see it much more often. With Murphy, Michael, Lydia and Susan in danger Harry nearly dies (a couple of times) to save the people he considers family.  
Harry is invited to a vampire party by Bianca (whom he wronged previously) as a representative of the White Council. Michael goes with Harry and they look to try and find the source of the dark power causing all the ghosts in Chicago to wreak havoc. They find that and more.
We also meet Thomas Raith (a White Court vampire) who helps Harry and Michael at the party but is unable to help by the laws of hospitality when Susan arrives with a forged invitation. We see fairy tricks, many subplots and generally Harry's terrible luck all work against him and his friends as they are put in a no-win, nearly fatal situation. The question that I won't spoil here is who comes out of the party alive?
This book serves as a great  pivotal piece in the series. We meet new characters, new plots are introduced, we see character development from nearly everyone involved and, at the very least, we see how deep Harry carries his guilt. This is a common theme for Harry which can be draining at times to witness over and over again but, trust me, if you had been in Harry's place you'd feel the same.
The one plot point I will spoil is this. Harry's interactions at the party with all the vampires sets off a war with the Red Court of Vampires. I can say, now being a few books ahead, this controls a lot of Harry's life going forward and the repercussions of this party are not only in the war but in Harry's personal life as well.