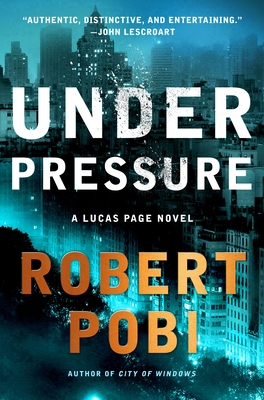 Under Pressure (Lucas Page #2)
By:
Robert Pobi
Website:
https://www.robertpobi.com/
Release Date:
August 4th, 2020
Publisher:
Minotaur Books
Series:
Lucas Page
Rating:
Normally when I apply for ARC copies I try to avoid books that are not the first book in a series because I don't want to miss anything in regards to context in a series. However, when I read the synopsis of Under Pressure I couldn't resist putting in for the ARC.
In the opening of this book the Guggenheim Museum is attacked during a private event and everyone, including unfortunate bystanders outside of the museum, are killed by the blast. Lucas Page, formerly of the FBI, and now a college professor and author, is brought back into the field to try and help solve the case and get answers for all of the families.
I adored Lucas, despite his rough exterior at times (it's understandable for what he's gone through) and his connection to former colleague Angela Whitaker as their easy back and forth felt like many friendships that I have (although our conversation topics are much less serious.)
Robert Pobi's writing was masterful and his ability to weave all the pieces together was so satisfying as a reader. This was my first time reading anything by him and I have to say I'm a fan. I'll be going back to book one in the series, City of Windows, and getting the full background on Lucas as soon as possible.
I will say my rating is more due to feeling like I was missing background and context, again the hazards of jumping into a series. I try avoiding this at all costs but Under Pressure was just way too tempting. While I feel I was out of the loop sometimes I was still very much able to enjoy the book.
Thank you to NetGalley, Minotaur Books and Robert Pobi for the chance to read the ARC for this book!