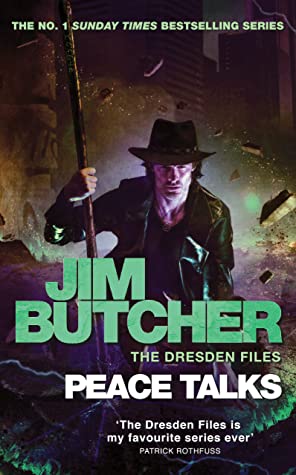 Peace Talks (The Dresden Files #16)
By:
Jim Butcher
Website:
https://www.jim-butcher.com/
Release Date:
July 14th, 2020
Publisher:
Penguin Random House
Series:
The Dresden Files
Rating:
It has been a long time coming for book number sixteen in the Dresden Files. Book fifteen, Skin Game, came out in 2014. Yes, 2014 so six years ago now. I will say I am luckier than most fans in that I came into my Dresden files obsession in the last few years so I read Skin Game in 2017. Still, it's been three years and I admit I had to go back and re-read the last couple books to remember where we'd left off.
Thank you to Penguin Random House and Berkley for the ARC. It was the highlight of my quarantine.
As we are sixteen books in this series if you haven't read the others stop reading the review now, go back and start with book one Storm Front. This is not a series to read out of order. If you've read all the other books and want to know what I think about Peace Talks please read on.
When the Supernatural nations of the world meet up to negotiate an end to ongoing hostilities, Harry Dresden, Chicago's only professional wizard, joins the White Council's security team to make sure the talks stay civil. But can he succeed, when dark political manipulations threaten the very existence of Chicago—and all he holds dear?
Okay, so now that we're all caught up on summary of the book, let's dive in.
Harry has a lot going on this time around and, like always, he can't seem to avoid more trouble even when his plat is already full. Between having custody of his daughter, serving as the Knight for Queen Mab and trying to keep every other part of his life from going off course it was only a matter of time before things went wrong.
What kind of trouble could he possibly get into? Well, with the peace accords happening Harry is bound to help keep things civil but when his brother Thomas is accused of an attempted assassination (and the death of a guard during that attempt) Harry is stuck between the loyalty to his family and the laws that bind him to the Council and Queen Mab.
Butcher's writing is still fantastic and I'll say this, the romance is getting better. Not just because of the pairings we see but the actual scenes between characters that have romantic undertones. A lot of times I struggle with reading romance scenes because they can go so cheesy, cliche or cringe-worthy fast. And, while Butcher isn't the master of avoiding this I will say he's gotten better at it and he never made me wrinkly my nose and close a book forever either. I see the effort in his work and I appreciate it.
This far into the series I'm also happy to announce that if you're looking for all the action, sass, political intrigue and plot twists you've come to expect from Butcher and the Dresden Files series you will not be disappointed by this book! As series grow and change over time sometimes I've found myself disappointed or let down as it seems that the writer is looking to finish the series and move on. That's not the case here either and, once again, thank you Jim Butcher.
If you're thinking sixteen books is enough, according to myself, fans of the series and Jim Butcher himself, it isn't enough. According to Butcher's website we could be looking at as many as twenty books, not to mention all the short stories he has already published for our enjoyment. Book seventeen is slated for publication September 29, 2020.
I am so ready for it.