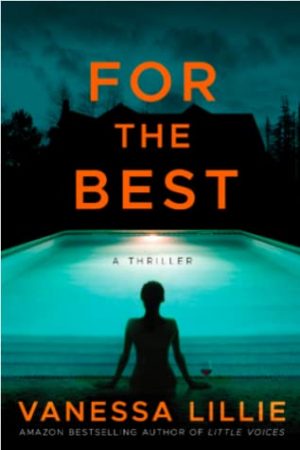 For the Best
By:
Vanessa Lillie
Website:
http://www.vanessalillie.com/
Release Date:
September 8th, 2020
Publisher:
Thomas & Mercer
Rating:
What else could I, as a mystery/thriller addict ask for? I've never read any of Vanessa Lillie's works before but this book may have brought me to a new author. Her debut novel, Little Voices is now on my wishlist and I will definitely be picking it up sometime soon.
In For the Best we follow the life of Jules Worthington, a CEO, wife and mother as she wakes up the day after an event, completely hungover after her blackout the night before only to find that she has been connected to and suspected of a murder. Rough way to wake up if you ask me.
Sure of her innocence and not liking the pressure of the police as they zero in on Jules as their only suspect she begins to investigate on her own. The further she digs into that night, and everything that lead to it, the more chaotic things get as Jules learns things that were maybe better off buried.
Vanessa Lillie earned me as a fan for all the successful red herrings, surprises and smooth, enjoyable writing style. I will say that I couldn't fully connect to Jules but I still wanted the truth that she was hunting for so I was happy to see the story from her point of view, even when things took dark and unexpected turns.
If you like suspense, mystery, thrillers and seeing characters go deeper into their own struggles, face their own past and refusing to give up you should check out For the Best which is available on September 8th, 2020.
Thank you to NetGalley, Thomas & Mercer and Vanessa Lillie for the chance to read the ARC!