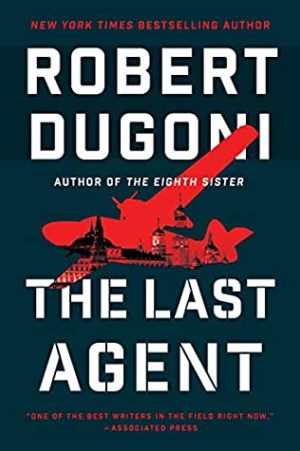 The Last Agent (Charles Jenkins #2)
By:
Robert Dugoni
Website:
https://www.robertdugonibooks.com/
Release Date:
September 22nd, 2020
Publisher:
Thomas & Mercer
Series:
Charles Jenkins
Received From:
NetGalley
(All reviews are our own, honest opinions.)
Rating:
When we return to the life and world of Charles Jenkins we learn that, luckily, he has been exonerated. All should be well as the retired man focuses on his family, right? Well, that wouldn't be much of a story. If you haven't read book one and are looking for an edge of your seat espionage novel, start with The Eighth Sister. Then join me with The Last Agent.
When news and suspicion reach Charles, that a woman is locked up in Moscow's notorious Lefortovo Prison he wonders if it could be Paulina Ponomayova, who we met in book one. She sacrificed herself to save him and now Charles has a debt to clear. He can't be certain if it is her but if it is he needs to get her out.
Dugoni succeeded in once again presenting me with a spy story I could be invested in. I started as a fan of his Tracy Crosswhite series (no surprise there as it's a crime thriller series) so when I saw The Eighth Sister I picked it up, trusting Dugoni more than the genre. If you're like me and spy novels aren't always your cup of tea give this series a try.
With well-written characters, fantastic plot, surprises every time you think you know what is coming and moments that will have your heart racing as if you're the one in danger you really can't go wrong with the Charles Jenkins series.
Thank you to NetGalley and Thomas & Mercer for the ARC of The Last Agent. The book will be published on September 22nd, 2020.