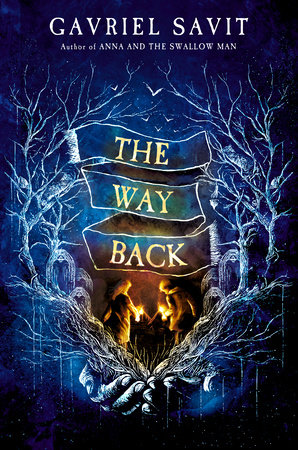 The Way Back
By:
Gavriel Savit
Website:
https://www.gavrielsavit.com/
Release Date:
November 17th, 2020
Publisher:
Knopf Books for Young Readers
Received From:
NetGalley
(All reviews are our own, honest opinions.)
Rating:
As I'm sure most of us can agree, as a reader we love any and all stories. For me my first love was classic fairy tales and folklore so when I saw The Way Back on NetGalley advertised as a historical fantasy brushing the realms of folklore I had to beg for the copy. I was thrilled to receive it and enjoyed every single page.
The Way Back follows a boy named Yehuda Leib and a girl named Bluma as they both chase after the Angel of Death for their own reasons. For Eastern European Jews there is the belief that demons have a land of their own: a Far Country peopled with the souls of the transient dead, governed by demonic dukes, barons, and earls. 
In their adventures we see Yehuda and Bluma struggle towards their goals and face the realities of the realm they find themselves in. I loved the fantastical elements of the story and loved the rich descriptions and interwoven details throughout the book.
I admit that I am not Jewish and while I know some folklore originating from the Jewish faith I cannot claim to know enough to feel a connection to parts of the story I'm sure others will pick up on if they are more versed in that faith. I was, however, drawn to the emotions and culture of the characters as they struggled through their journey and I began researching a bit after finishing the book which speaks to the author's ability to transcend across religious and cultural lines.
The writing style was beautiful and I cannot say much more than that. I was in love with every single word choice, not once wrinkling my nose at the pace of the sentence, the punctuation or description. I find this to be rare as we all have styles we prefer and while I've never read anything by Gavriel Savit before it did feel a bit like "coming home" when I was reading.
If I had to complain about anything in this story it was that I didn't feel like I knew the characters as well as you may find in other novels. I wanted to know more about Yehuda and Bluma, I wanted to know more of their backstories so that I may have connected to them a bit better. While I still cared for each of them immensely I felt like I still had hundreds of questions for each of them by the time I finished reading the book.
While the overall pace of the story may feel slow for some to me it felt like a proper immersion into the world I was entering. Perhaps that is all to do with timing of when I picked up the book, the mood I was in, etc. but I enjoyed the pace though same may deem it slow to start.
If you love folklore, fantasy and tales of people struggling to overcome many challenges you will definitely enjoy The Way Back. I would say this may be better classified as more Middle Grade than Young Adult but readers of both age groups will be able to enjoy this story (and myself at thirty-one years enjoyed it very much indeed.)
Thank you to NetGalley, Knopf Books for Young Readers and Gavriel Savit for the chance to read the ARC of this wonderful story.