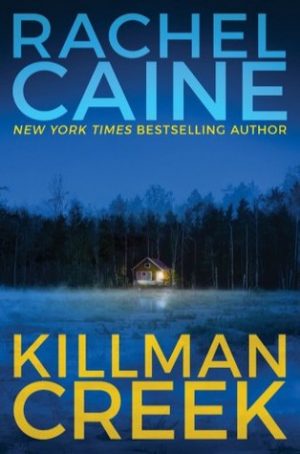 Killman Creek (Stillhouse Lake #2)
By:
Rachel Caine
Website:
https://www.rachelcaine.com/
Release Date:
December 12th, 2017
Publisher:
Thomas & Mercer
Series:
Stillhouse Lake
Rating:
We're back at Stillhouse Lake and things for Gwen and the kids haven't gotten any easier. Especially not now since her psychotic ex Melvin has broken out of prison and is coming after Gwen and the kids.
When we return to see what is happening in the life of Gwen Proctor and her kids we learn that fear and paranoia are all too real as Melvin, Gwen's husband, has escaped prison and is coming after them. With the help of Sam Cade, the brother of one of Melvin's victims (crazy I know) Gwen is going on the offensive, hunting her ex-husband down to try and protect her children.
If you enjoyed book one you should definitely pick up book two. The characters are still very well written, the pace and constant page turning continues as you'll be just as desperate as I was to see how this all works out.
While book one, Stillhouse Lake, was dark in it's own way Killman Creek is even darker, if you can believe that. It's as if Rachel Caine tamed the essence of evil enough to write down some of it's horrible deeds in this book. To that end if you have a hard time reading about horrible acts (child abuse chief among them here) maybe you should brace yourself if you plan to read book two. It was rough to read but I am already so invested in these characters that I really couldn't put it down.
Killman Creek is book two in the series about Gwen Proctor and her kids as they try to find something close to normal in this world. At the time of writing this review there are four published books in the series with the fifth book released in March 2021. Sadly the author known by her penname, Rachel Caine, passed away in November of 2020 after a battle with cancer so the fifth book will most likely be the last in this series and we've lost an amazing author in the world.