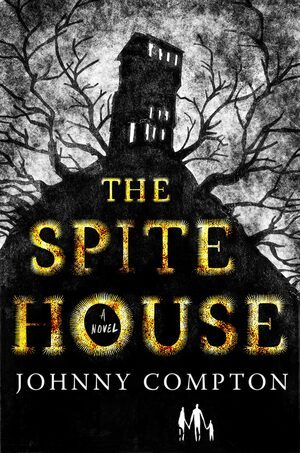 The Spite House
By:
Johnny Compton
Release Date:
February 7, 2023
Publisher:
Tor Nightfire
Rating:
Author Johnny Compton is perhaps best known for his short fiction and contributions to the fiction podcast world, appearing in podcasts such as Pseudopod, The No Sleep Podcast, and certainly not least, his own podcast Healthy Fears. Debut novel The Spite House is Compton's first foray into long-form fiction. Like his previous works, this debut novel falls solidly within the horror genre, with plenty of gothic elements for fans of the subgenre to sink their teeth into.
Eric Ross is a father on the run from a past that remains a bit of an enigma for much of the novel. Desperate for cash, Eric will take just about any under-the-table job that comes his way. He needs to take care of his two daughters, after all. That's why he jumps at the opportunity to become the caretaker of the Masson House. The owner of this Texan property needs proof that the home is just as haunted as previous caretakers have claimed. All he needs to do is live in there, record anything odd that happens, and accept the very generous payout awaiting him.
At first glance, the premise may seem like a standard setup that is often used in the genre. Eric has ulterior motives for taking this caretaker-turned-ghost-hunter position, though. Exploring the paranormal in this house may lead him toward answers he has been desperately searching for in regard to his past and one of his daughters. This creates two separate but very intertwined narratives filled with questions Eric and the reader must solve.
The novel is very much an intergenerational one, exploring not just Eric and his daughters' lives but also that of his grandfather. Parallel to this is the ongoing saga of a spite house (a type of home specifically built to spite other people), the murky past of one of the town's most enigmatic figures, and the intergenerational secrets of the family who owns this supposedly haunted home. Few books explore spite houses, a part of history that lends itself perfectly to the horror genre as a whole and gothic literature in particular. Plenty of family secrets, town secrets, and disbelieved truths simmer just below the surface. The background of the house, the town, and the Ross family are all very intriguing, begging readers to keep turning the page.
The tale isn't only told from Eric Ross's point of view. In fact, the point of view changes with each chapter, and sometimes within the chapter as well. This constant changing of characters sometimes does the novel a disservice. As soon as you settle in with a character, the perspective shifts once again, which can be frustrating at times. However, each character is exceptionally well written, making readers want to stay with one character or another far longer than allowed. This shifting of perspective also reveals certain plot points at odd times, making the narrative payoff feel slightly off-balance while reading.
The Spite House most certainly leans into its Southern Gothic nature as opposed to the haunted house subgenre. Fascinating mysteries on multiple fronts beg to be unraveled. Though there are some outright frightening moments, the haunted house nature of the story largely takes a backseat to the gothic. There isn't a plethora of bone-chilling haunted house happenings, though these are present, especially in later sections of the novel. More real-world scares also occur. This intersection of the paranormal and the mundane lends an interesting perspective to the novel. Compton weaves these two very different types of fear together exceptionally well.
Though slim, The Spite House by Johnny Compton certainly packs a punch. Like many horror novels, certain questions are left somewhat unanswered, with readers left to come to their own conclusions about certain aspects. While not a perfect debut, the novel certainly holds its own. Future works from Compton are sure to hold promise, and are much looked forward to.