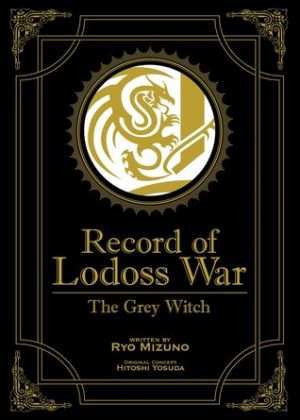 Record of Lodoss War: The Grey Witch
By:
Ryo Mizuno; Hitoshi Yasuda (original concept)
Illustrator:
Yutaka Izubuchi
Translator:
Lillian Olsen
Release Date:
December 19, 2017; (original) 19
Publisher:
Seven Seas
Received From:
Publisher
(All reviews are our own, honest opinions.)
Rating:
There is nothing I appreciate more than a rerelease of an older title, especially when those of us in the US may have missed out on a translation the first time around. These are the light novels and manga of my youth, before my youth, the ones that have formed the genres and tropes we know today. Record of Lodoss War: The Grey Witch by Ryo Mizuno was first published when the concept of light novels was still new. Now, thirty years later, it is brought to the US for the first time.
Record of Lodoss War: The Grey Witch introduces us to Parn, a young swordsman looking for answers and determined to restore honor to his father's name. Along with a ragtag group of heroes, Parn find himself embroiled in a war that is quickly sweeping over Lodoss. Those who were once friends are now enemies, and someone is pulling strings behind the scenes, an ancient evil that must be found at all costs.
The sheer quality of this light novel is something to be praised in and of itself. The vast majority of the light novels I personally own are paperbacks, most with some scattered black and white images. This is a beautiful hardcover edition with faux leather and gold embossing on the front and back covers. The endpapers are high quality patterned paper. Most of the images are in full color. Even the headers and footers of each page are nicer than normal edition.
This book does what every good light novel should – it is incredibly readable – and it does it with ease. Genre staples that can bog down any typical high fantasy novel are missing here. We don't get the page long descriptions of the scenery that can grind a scene to a halt. There are no chapter long exposition dumps filled with details of the world and its history which may or may not be completely relevant until the next book or twelve. The activities of the group are touched upon as they make their way from one plot point to another, but the author never gets lost in the endless side stories that can turn an otherwise fast paced fantasy into a 'story about walking'.
Instead, we get to know the character's through dialogue, their actions in battle, and a very good use of third person omniscient narration. We see into each character's head, however briefly that may be. Each character has joined this group for a specific reason, many following a quest of their own. We also get to see into the minds of other characters – kings, wizards, villains – allowing the reader a full grasp of the overarching story of the war enveloping Lodoss.
Despite only being one book and having some time small time skips, the passage of time is easily felt. Parn develops both in mentality and in skill. The effects of war are seen, even if the war itself is not always present on the page. The effects of time upon the heroes of old who now fight against one another are stark, the irony and melancholy still felt despite the reader not having followed these characters on their own heroic missions.
This is a standard high fantasy novel in many ways. Many hallmarks of the genre are found here, not only those typical to light novels, manga, and anime, but of high fantasy literature in general. Elves and dwarves grace the pages. Parn is an orphan setting out on a coming of age/heroes journey. Dragons and other fantastical creatures, while found in great abundance, are also found within the book. Magic is abundant, with different characters using different types of magic. And of course we have ancient, forgotten civilizations, evil emperors, and conflict across the continent.
In fact, this works in the books favor, especially outside of Japan. This book is extremely accessible to a wide range of people. Like the older anime adaptation? Read the book! Like light novels? Check out one of the first in the genre! Like fantasy novels? This one has all of the staples you've grown to love!
There is some wonderful art within the book as well. The opening pages bear color images of the main character and his companions along with a short description of who them along with a map of Lodoss. The end of the book has more images, these being more full color images showing scenes and characters from the book. All of the full color images are soft, using muted colors and a watercolor-like quality. Backgrounds are usually not very detailed, instead being a swath of blended watercolor paints.
Yet my favorite images are found scattered throughout the novel. These are beautiful images made in much the same manner as the rest only this time in black and white. Each picture is a mixture of watercolor and pencil. Backgrounds are minimalistic, lending well to the play of light and dark within each image, especially in certain pictures. This creates a very interesting minimalistic quality to the images, something I really love.
Record of Lodoss War: The Grey Witch is a book which fans of manga, anime, and general fantasy fiction are bound to love. I sincerely hope that further titles in the Record of Lodoss War series are translated and released in the future. This is a truly wonderful series that I urge everyone to read, and sits in a place of honor on my shelf.