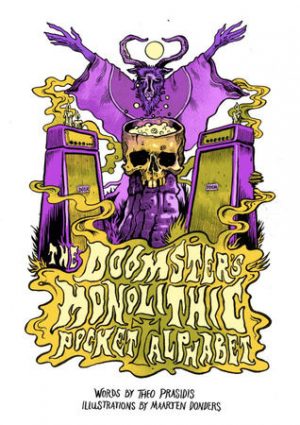 The Doomster's Monothlithic Pocket Alphabet
By:
Theo Prasidis
Illustrator:
Maarten Donders
Release Date:
November 21, 2017
Publisher:
Image Comics
Received From:
Publisher
(All reviews are our own, honest opinions.)
Rating:
Some people pick up books based on the front cover. Me? I tend to pick book based on the title. One of the last graphic novels I read based on the title was this one. The Doomster's Monolithic Pocket Alphabet written by Theo Prasidis and with art by Maarten Donders is a love letter to doomsters. It's short, it's fun, and it's cute (not necessarily a word I every expected to use in regard to doom metal, but hey).
The title of this graphic novel doesn't belie any deeper story. This is an alphabet book with a doomster spin. One page is a specific letter of the alphabet. The next is an image that corresponds to that letter and the text that goes with it.
To be honest, there isn't a lot to say about this, due largely to the fact that there isn't any story here. What you see is what you get. That's not to say it's bad. I genuinely enjoyed reading this graphic novel, despite not being a doomster (I prefer power metal and symphonic metal but that's a discussion for another day). However, at the end of the day, this is still only an alphabet book for adults with fun images.
The art in this graphic novel was really enjoyable. I wasn't familiar with Maarten Donders' work before reading this, but I will be looking for more of his work in the future.
The Doomster's Monolithic Pocket Alphabet is the perfect gift for the doomster in your life. It's a great book for a collection, or something to keep as a coffee table book. However, if you're looking for something with a plot, this isn't the graphic novel your looking for.
If you are a doomster, I'd say to pick up a copy of The Doomster's Monolithic Pocket Alphabet by Theo Prasidis and Maarten Donders. If you aren't a doomster, or you don't listen to any kind of metal you probably won't get too much out of this graphic novel.