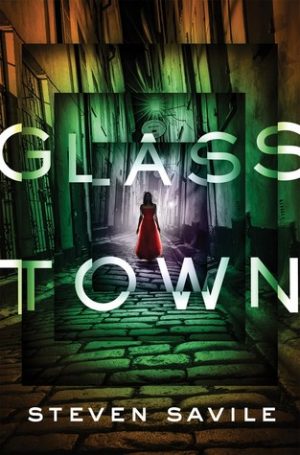 Glass Town
By:
Steven Savile
Release Date:
December 5, 2017
Publisher:
Thomas Dunne Books
Rating:
During my last trip to the library a recent release I'd not heard much about caught my eye. Glass Town by Steven Savile is a novel that combines traditional noir mystery, the glamour of 1920s filmmaking, and fantasy in wonderful harmony.
The story begins on the day of Boone's funeral, the beloved grandfather of Josh Raines. His death was unexpected, a fall down the stairs, but the note bequeathed to Josh is even more shocking. Originally a note from Boone's father, Isaiah, it outlines the disappearance of Eleanor Raines, a young movie star who disappeared with no trace and Isaiah's first, true love. Obsessed over her disappearance his entire life, Isaiah sought fruitlessly for answers, but he did see Eleanor once again, looking exactly the same as the day she disappeared. Now the mystery of the missing woman who hasn't aged in more than 100 years is passed down to Josh. And, whether he wants it or not, he will become involved.
Glass Town is a noir mystery at heart, one steeped in magic and revenge. It is the story of Josh, a young man mourning his grandfather's death, questioning the odd letter he's bequeathed, and suddenly faced with cousins he never knew who come unannounced to the funeral. Suddenly, the Lockwood's, the old time mobster family who ruled that part of the city for decades, are thrust into his life. And Seth Lockwood, a cousin separated by several generations doesn't seem to like him, even as the main who claims to be his father ensures that whatever bad blood was once between them is long buried.
The stage is well set, the pawns in place. The story is pretty quickly paced, following Josh as he tries to unravel a mystery the Lockwood's would do anything to keep buried. The narrative follows Josh very closely, though the point of view does switch to the villain every now and again.
The magic used in this novel is truly unique and a delight to read. Old movie reels are magic, literally. Terrifying, ghostly images are pulled right off the silver screen. The actors and actresses of early film flit in and out of the pages. The old magic shows and their larger than life magicians really do wield magic. I have never seen magic used in quite this way, nor so creatively. It was fun, different, and I loved second of it.
As much as this is a traditional mystery and an urban fantasy, it is also a story about family and revenge. Just how different is can branches of a family be? How do people change, or not change, from one generation to another. What is a person capable of? What lies buried beneath the surface? All of these are touched on within the story.
Like many noir mysteries, many of these characters are shown in shades of gray. Everyone has flaws, and major ones at that. Cowardice, fear, anger – all of these take a very real toll on the characters. People change throughout the course of the book. Josh is not the same young man at the end that he was in the beginning.
I would definitely suggest reading Glass Town by Steven Savile. If you like mysteries, old movies, noir, or fantasy set in the modern era this is a story you won't want to miss. I will definitely be keeping my eye out for more by this author.