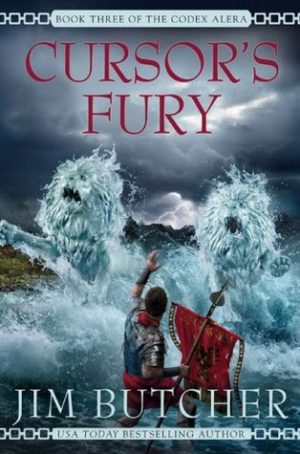 Cursor's Fury (Codex Alera #3)
By:
Jim Butcher
Website:
http://www.jim-butcher.com/
Release Date:
December 5th, 20016
Publisher:
Ace Books
Series:
Codex Alera
Rating:
Back to the world of Alera we go! For anyone following along, book three continues to impress. We see character development, new characters and an increase in the danger for the characters.
As with most series and especially my experience with reading Jim Butcher's works we are getting to that point in the series where anything I talk about will lead to some MAJOR spoilers. So, my review shall remain brief but hopefully encouraging enough to get you to continue reading this series or go back to book number one Furies of Calderon and give the series a try. 
Okay so clearly I love these books and characters but, what do I love more than the current action taking place? We get some important characters origin stories in this book! Specifically we learn a lot more about Isana and Fade as well as we learn some interesting thing about Kitai and how her bond with Tavi has grown over time.
Important things to know about this book before starting it: we see a lot more military focus in this book than in previous books. If you don't like military/ battle focused books this one might not be your favorite but it is an important one. Tavi, now a Cursor, is sent to assist a legion and learn who might be a traitor. As always Tavi finds himself in extremely hot water as he poses as a Legion officer and ends up being pushed to the front of military battles and pushed into making extremely important tactical decisions. 
We also see a lot of Bernard and Amara working together on a mission and we see how their relationship has grown as well. Honestly, even though I love Kitai more than any main character in this series the relationship of Bernard and Amara might be my favorite relationship as he continues to be supportive and patient while she continues to remain a strong, independent person while showing her love and support to her man. 
A side note regarding the romances in this series (and the same goes for The Dresden Files series which I ranted and raved about previously on this blog. Jim Butcher knows how to write romance in without it being the focus. I repeat, it isn't the focus and it doesn't detract from the important plot going on around it. It's rare to find an author that pulls it off so well and I must say that he may be my favorite at doing that. 
And, as with most of my reviews of books by Jim Butcher about here is one of my favorite quotes from the book. This amazing quote is from the mouth of Bernard who I simply adore.
"Senator. If you call my friend a liar one more time, I will take it badly."
"Excuse me?" Arnos said, his eyebrows rising up.
"I suggest you find an alternate shortsighted, egomaniacally ridiculous reason to blatantly, recklessly ignore an obvious threat to the Realm simply because you don't wish it to exist. If you cannot restrain yourself from base slander, I will be pleased to meet you in juris macto and personally rip your forked tongue from your head."
So, as you can tell from my rating and the above discussion of the great points of this book I'm still hooked on the series. Three books reviewed, already read number four and on number five, my obsession continues.  I personally think people who enjoy fantasy are missing out if they do not pick up this series.