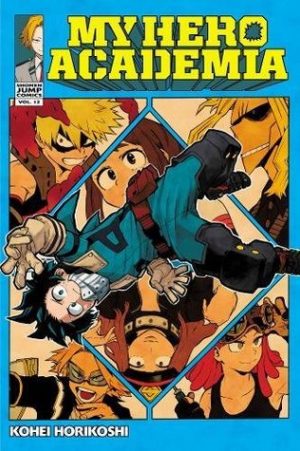 My Hero Academia Vol. 12
By:
Kohei Horikoshi
Translator:
Caleb Cook
Release Date:
April 3, 2018
Publisher:
VIZ Media LLC
Series:
My Hero Academia
Received From:
Publisher
(All reviews are our own, honest opinions.)
Rating:
What an exciting week for My Hero Academia fans! Not only is the third season of the anime airing this Saturday, but there's another volume of the manga as well! My Hero Academia Vol 12 by Kohei Horikoshi is the beginning of a new arc in the extremely popular shonen series.
If you would like to catch up on some of our reviews for this series you can check out what we thought of Volume 10 and Volume 11.
After the conclusion of a very intense last arc, My Hero Academia Vol 12 starts out a bit on the lighter side of things. It's still spring break, but the students are back at school and have settled into their their new dorms. Instead of free time, it's time for Class 1-A to work on creating their ultimate moves – the big, flashy named moves all real pro-heroes have. Mei Hatsume, the support class's tinkerer extraordinaire, is ready to provide Midoriya and the others with any costume upgrades and cool gadgets they may need. And they'll need everything they can get in order to pass the upcoming Provisional License Exam.
This arc is, by and large, less intense than the last one. However, it is no less important. The stress here is a different kind of stress. Just because Midoriya and the other students have been tested in battle doesn't mean their schooling is complete, their skills up to par, or that they don't need to complete the required course material that other students whose lives haven't been in immediate danger usually go through. There are fun aspects to this – cool new costume designs, gadgets designed to help them on the battlefield, and awesome new moves being tested out. But there are tense aspects as well. The Provisional License Exam is difficult in and of itself, most students don't pass the first time around, and there are thousands of others competing against them.
Characters who were seen only briefly in the last volume are brought to the forefront a bit more here. We get to see the whole of class 1-A work on their more flashy moves and make some adjustments to their costumes based not only on class time and practice, but from the students fight against real villains. The ingenuity and quick thinking not only of Midoriya but many of his classmates are shown off during the Provisional License Exam. These students have learned a lot within the last couple of volumes, and getting to see them show off their abilities and work together only serves to highlight this fact.  Mei Hatsume, a fun character and personal favorite, returns not as a competitor this time but someone who can aid them in costume and support equipment design.
This brings up an important point which is subtly dealt with through the volume. Midoriya and the rest aren't simply classmates. They're future coworkers. These aren't people that will disappear come graduation. These are people that they'll need to work with and develop a good working relationship with if not full friendship. Mei Hatsume in particular stands out in this regard as her sheer passion and drive set her up to be the face of support equipment for the next generation of heroes. Working together – or not – during the Provisional License Exam along with the slowly evolving dynamics of Bakugo and Midoriya only serve to highlight this further.
It's easy to forget that U.A. is not only hero school and our young heroes only a handful out of thousands that want to become heroes. This volume highlights some of these other schools, their classes, and teachers. Interesting new quirks are introduced, and we get to see new professional heroes and students. The world feels larger in this volume, no longer revolving solely around U.A. and the handful of heroes that teach there.
This art is, as always, simply wonderful. But it is the small details that truly make this manga special. For example, the book on how to teach which sticks out of All Might's back pocket serves to show that not only is trying to be a better teach, but understands his shortcomings and the need for them to be resolved. It is these subtle moments that show just how far certain characters have come, how events have effected them, and are a perfect example of adding subtle character development through art.
My Hero Academia is a series that never disappoints, and Volume 12 is no exception. Needless to say, I am certainly looking forward to the next volume of My Hero Academia. The Licensing Exam is far from over, after all, and I would love to see what happens next.