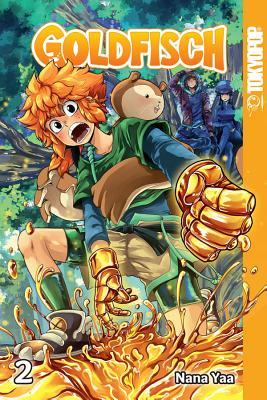 Goldfisch Vol. 2
By:
Nana Yaa
Translator:
Michael Waaler
Release Date:
April 24, 2018
Publisher:
TokyoPop
Series:
Goldfisch
Received From:
Publisher
(All reviews are our own, honest opinions.)
Rating:
The second volume of Golfisch is being released tomorrow, April 24, 2018 by TokyoPop. After reading Volume 1 a few months ago, I was extremely excited to dig into the next volume. Goldfisch Vol 2 by Nana Yaa is just as fun as the first volume, and a great read for fans of shonen.
If you want to catch up with the series or see what we thought of
Goldfisch Vol 1
, our review can be found
here
.
Goldfisch Vol 2 picks up right where the first volume left off before going right into a flashback. I'm not going to go into great detail in regards to the plot here in order to avoid spoilers. There are a number of flashbacks throughout this volume beginning right at the start of the story. We get more information on Morrey's past as well as information about Shelly, Zaka, and Morrey's father. These were largely well placed, not detracting from the action or pacing of the story.
This volume did feel a bit chattier than the first, something the mangaka herself mentions in the closing pages of the volume, which I thought was interesting. Certain pages were very dialogue heavy, especially during some of the flashbacks. This is to be expect to a certain degree – there is a good amount of information that has to be relayed, things Morrey was ignorant to and needed to discover. There is a very interesting discussion in this volume about character's motives and what is or isn't selfish. Morrey wants to learn about who his father truly was more than anything else. Yet he knows that, no matter what he learns, it won't matter or make a difference in a sense. That part of his life is done. His family is gone and he should be focusing on his brother – the one person he
can
save – as opposed to the preoccupation about his father. Morrey repeats that he's selfish and that he shouldn't be. He has a family that's he's cobbled together, and knows that should be enough. And yet, it isn't. Not really. He yearns for the truth, for closure. It's something he grapples with, hard, throughout the volume. I do have to say that while I largely loved this volume as much as the first, I do have a gripe. When the brilliant Shelly gives Morrey special gloves she invented that will allow him to touch things without turning them to gold, his first reaction is to grope Shelly. This was completely out of tune with the tone of the series, and, more importantly, felt extremely out of character for Morrey. He's always been portrayed as a happy go lucky kid, someone who's naïve but respectful. This was completely out of character for Morrey. To be honest, it bothered me due to the wasted opportunity more than anything else. Morrey is a boy that has lost his family one by one and is unable to touch anything or be touched in return. He's a boy who's starved for love and has only just found some people he can call family. Just how meaningful Morrey's first reaction to being able to touch again is lost in the fan-service-y gag. If his first reaction, not second, was to launch forward to hug his friends it would have reinforced the themes of Shelly and Zaka being family and been a very touching moment. However, that meaning was lost amid the bad taste of the out of place, unneeded groping incident left. The pacing ratchets up once again as the volume comes to a close, leaving off on another cliffhanger. This was another good volume overall. Both Morrey and the reader learned a lot over the course of the volume. I will definitely be reading the third volume in the series. If you haven't already picked up
Goldfisch
by Nana Yaa, I highly suggest you do. Despite whatever gripes I might have, I want to reiterate that
Goldfisch
 is a
very
solid shonen series set in a fantasy world, and one that I highly recommend.