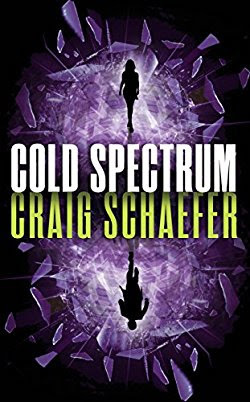 Cold Spectrum (Harmony Black #4)
By:
Craig Schaefer
Website:
http://craig-schaefer-v2.squarespace.com/
Release Date:
October 31st, 2017
Publisher:
47 North
Series:
Harmony Black Series
Rating:
 If you've gone this far into the series you know the trouble this following statement means: Diehl and Nadine are teaming up to take out Vigilant Lock. To make matters worse? Panic Cell, another team of Vigilant Lock, is coming for Harmony and her team. as well.
 What does this mean? Pure, damn chaos.
 So, with the team in turmoil we see the unfolding of the Cold Spectrum conspiracy. I don't want to reveal too much about the plot because everything feels like a spoiler in this book. So what can I tell you to make sure you read this book?
 1. We see the continuation of Harmony being a perfectly imperfect hero. What I mean by this is that she is flawed, openly flawed and not a Mary Sue in any way. 
 2. Kevin is, for lack of a better term, sassier in this book. And it amused me so much.
 3. Jessie continues to be her usual badass self while having excellent one-liners and breaking up the chaos with light humor when needed.  
 4. Fontaine is back. (This alone should make you check it out). 
 5. We learn more about Vigilant Lock as well, growing and tying in with the Cold Spectrum conspiracy and the complicated backstory is intriguing enough without being convoluted.
 The book, being the last of the series currently on the market, was amazing. Honestly, it's fair to say I'm obsessed with this series and these characters so is my review a little biased? Maybe. But if you've read books 1-3 and are wondering if you should read book 4, well, you've come this far, haven't you?  
To summarize, I'm still obsessed with these books. If you've enjoyed the books I've enjoyed… go back to book one of this series  and dive in. If you're not ready for a witch/FBI agent lead go to book one of the Daniel Faust series by Craig Schaefer (where Harmony is first mentioned) and start there. At the time of this review I have finished the four books available for Harmony Black and went back to the start of it all with Daniel Faust. And I am not disappointed there either.