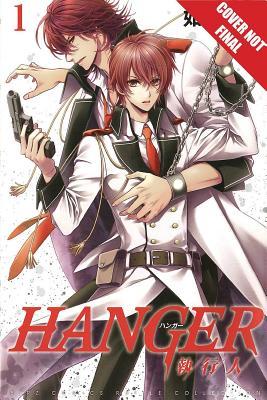 Hanger Vol 1
By:
Hirotaka Kisaragi
Illustrator:
Hirotaka Kisaragi; Philip Hong (Graphic Designer); Vibrraant Publishing Studio (Retouching & Lettering)
Translator:
Christine Dashiell
Release Date:
July 17, 2018
Publisher:
TokyoPop
Series:
Hanger
Received From:
Publisher
(All reviews are our own, honest opinions.)
Rating:
I was intrigued when I saw TokyoPop licensed a new manga, so I made sure I grabbed a copy as soon as I could.
Hanger Vol 1
 by Hirotaka Kisaragi is a yaoi near-future manga with just a hint of a buddy cop story feel at certain points.[/drocap]
The story is set in a near future Tokyo where nanotechnology is used by many people as a way to enhance their bodies. Drugs and drug dealers are rampant in the city as well, cashing in on nanotechnology. Drug runners caught by the police have the option of becoming a Hanger – they get clean and have nanotechnology used to link yourself to a police officer in order to prevent the Hanger from escaping or returning to a live of crime. The more drug runners they apprehend, the more time is shaved off of their sentence.
This is a very interesting sci-fi world and one I wanted to learn more about. The premise is a very solid one that tiptoes towards a society that could easily become cyberpunk. Unfortunately, we don't get as much in depth knowledge as I wished we did about any of this. Overviews of nanotechnology, the drug runners turned terrorists, and hangers are all given, but we don't learn all of the nitty gritty details. Now, this is somewhat expected for a first volume – if everything is imparted now what is left for later? But I do think that just a little more detail would have been very useful.
As for the main characters, I liked both of them. The author describes the manga as a buddy cop story in the afterward, and this is definitely felt in the interactions of Investigator Hajime Tsukumo and his hanger Zeroichi. They have very different personalities and experiences, and their interactions are fun. I really enjoyed reading about these two, and I found myself sympathizing a great deal with Hajime's situation in the beginning of the manga.
There are certain places where the plot about capturing drug lords and thwarting terrorist acts in the city takes a back seat to Hajime and Zeroichi's relationship. That said, I do like their relationship and want to see it grow, but a better balance between these two story elements could have been achieved. On a similar note, another hanger team is introduced and focused on quite heavily in the later chapters of this volume. While I was intrigued by the new characters and the mystery of Zeroichi warnings, I couldn't help but feel like the story was diverted a little too much. Both new characters are very interesting, with a tragic backstory and very deserving of their own arc somewhere down the line. Having this placed only a few chapters into the first volume detracts from getting to know our two main characters better and the setting up of plots and themes that will run throughout the series.
The fight scenes are a lot of fun. Zeroichi has inhuman strength, as do many of the drug dealers. This leads to some over the top scenes with lots of bodies flying through walls. What could have turned into standard over the top fighting fare that is often found in manga was grounded by the consequences of this type of fighting. There is humor in it, at times, with the characters exactly aware of how over the top, how strong and inhuman it all is. Being thrown through a wall isn't something that is simply shaken off. It has very real consequences. Hajime, who isn't enhanced by nanotechnology, also is a much more of a liability in fights, something that is addressed within the manga.
A lot of promise lays in this series. Certain elements remind me of other near future police based manga and anime. Honestly, I'd read more just for that alone. The two main characters are both very likable and interesting. I want to know how their professional and personal relationships are going to evolve. I want to know more about Zeroichi's past and what made him amnesic. I want to know how Hajime's inability to use nanotechnology will affect him. I want to learn more about both of their pasts.
Now, I read this manga as an e-arc, and I have to say that certain fonts were almost completely unreadable. Usually this isn't something I'd draw attention to, but seeing as that I haven't found other TokyoPop arcs to be of this sort of quality I would suggest flipping through the physical copy before purchasing it just to ensure that everything is readable.
Hanger Vol 1

by Hirotaka Kisaragi was a fun manga I will probably continue with. If you like yaoi manga or near future science fiction I would suggest picking up a copy.