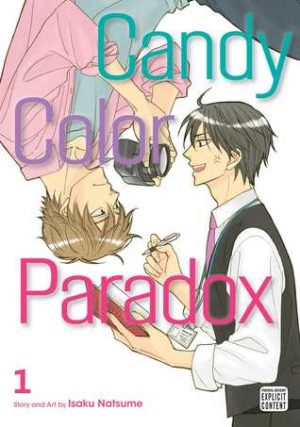 Candy Color Paradox, Vol. 1
By:
Isaku Natsume
Illustrator:
Isaku Natsume (Art); Vanessa Satone (Touch-up & Lettering); Yukiko Whitley (Cover & Graphic Design)
Translator:
Adrienne Beck
Release Date:
March 12, 2019
Publisher:
SuBLime
Series:
Candy Color Paradox #1
Received From:
Publisher
(All reviews are our own, honest opinions.)
Rating:
Released in English for the first time this week,
Candy Color Paradox, Vol. 1
by Isaku Natsume is a yaoi manga. Satoshi Onoe is a reporter. One morning he's given a new partner for stakeouts. Motoharu Kaburagi is a great photographer who uses every unconventional method there is and an attitude Onoe simply can't stand. But as the unwilling partners get to know one another, their attitudes towards each other begin to change and they begin to grow closer.