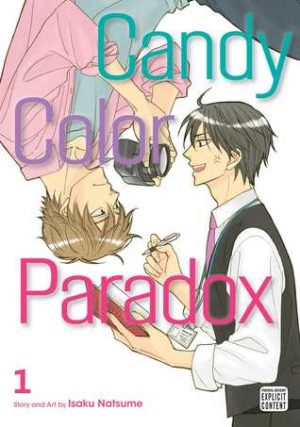 Candy Color Paradox, Vol. 1
By:
Isaku Natsume
Illustrator:
Isaku Natsume (Art); Vanessa Satone (Touch-up & Lettering); Yukiko Whitley (Cover & Graphic Design)
Translator:
Adrienne Beck
Release Date:
March 12, 2019
Publisher:
SuBLime
Series:
Candy Color Paradox #1
Received From:
Publisher
(All reviews are our own, honest opinions.)
Rating:
Released in English for the first time this week,
Candy Color Paradox, Vol. 1
by Isaku Natsume is a yaoi manga. Satoshi Onoe is a reporter. One morning he's given a new partner for stakeouts. Motoharu Kaburagi is a great photographer who uses every unconventional method there is and an attitude Onoe simply can't stand. But as the unwilling partners get to know one another, their attitudes towards each other begin to change and they begin to grow closer.
The two main characters are very different, very interesting people. Onoe is an honest, hardworking journalist who fights for goodness and justice. Kaburagi is disillusioned from years of watching the worst of humanity on stakeouts, and isn't above getting his hands dirty to get to the bottom of things and close a story. At first, the two don't like each other. This isn't surprising considering their entire philosophies are exact opposites. Neither understand the other, and both would rather have anyone else as their partner, work any other beat. Slowly, hatred turns to grudging respect. And that respect begins to grow to love.
Despite their vast differences, the two make a good pair. Their strengths and weaknesses work very well together. What one lacks, the other makes up for, and this is certainly the reason they were directed to be partners out in the field. Though neither Onoe or Kaburagi can see the potential in their pairing, their boss certainly does, respecting both of their abilities and attempting to constantly reinforce the idea that each needs the other to truly excel.
There are certain story beats and tropes that might be expected within Candy Color Paradox. All of them are handled deftly, and never lean too far into the expected. Part of this is due to the quick pacing. The story never drags or holds onto a plot thread for too long. Several stories are followed and reported on by the pair, giving the audience a wide range of interesting background mysteries. Their relationship also develops quite a bit within the pages, culminating in some pages of explicit content.
The art is clean, and lovely to look at. Each character has a very unique design, being immediately recognizable. Backgrounds are usually rather detailed, painting a more vivid picture of the city and their work.
I'm very interested in seeing where the story goes. Not only do I enjoy seeing their relationship change and progress, but I'm enjoying the background stories – the rumors and leads the pair follow during stakeouts and later report on – as well.
Candy Color Paradox, Vol. 1 by Isaku Natsume was a great M/M romance. I definitely want to see where the romance will go, and will definitely be reading further in this series. If you're looking for a new yaoi manga, give this one a read.