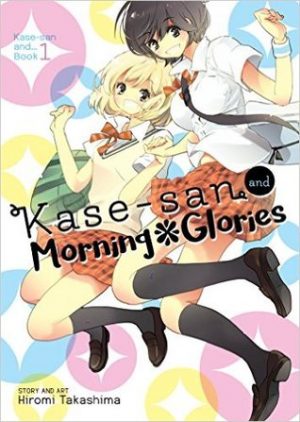 Kase-san and Morning Glories
By:
Hiromi Takashimi
Illustrator:
Hiromi Takashimi
Translator:
Jocelyne Allen (translator); Jenn Grunigen (adaptor)
Release Date:
February 28, 2017 (English); July 28, 2012 (Japanese)
Publisher:
Seven Seas
Series:
Kase-san Series
Rating:
I'm not going to lie. I was completely drawn in by the cute characters on the cover and the pretty pastel colors. I picked up this manga during a BookOutlet binge. I'd never heard of it before, and am very happy I managed to stumble across a copy. Kase-san and Morning Glories is a one shot manga volume that was extremely sweet with endearing characters.
The main character is Yamada, a high school student who is in charge of the schools gardening club. One day she finds a girl in another class watering her flowers. Kase is in a different class, the two don't know one another, but Yamada certainly has heard of her. Kase is the star of the girls track team, a bit of tomboyish figure, and someone Yamada would never have pegged as a lover of flowers. Yamada is quickly drawn to the other girl, unsure just how deep her feelings run.
This manga is definitely in the 'slow-burn' genre, at least as much as a single volume manga can be. The majority of the story is about the two girls growing closer and forming a deep friendship despite having different classes, different hobbies, and different groups of friends.
Yamada doesn't recognize her feelings, not at first, not really. It's much clearer to the reader that she harbors feelings for Kase, but Yamada isn't positive that it's a crush she's feeling. Much of the story revolves around Yamada trying to sort out her feelings, realizing what they really are, and being able to admit exactly how she feels. The story really does feel like first love, the sort of thing where you're pretty sure of what your feeling, but maybe aren't, and don't know how to act or what to say the whole time.
Now, this manga is a quick read. It's very much a slice of life story. There isn't an enormous amount of dialogue. The stakes are largely internal, mostly being Yamada coming to terms with the fact that she has a crush on a girl and what to do next. It's a slower, lovely read about very warm, wonderful characters. This is the sort of story that makes a reader feel warm and cozy, the sort of manga that is always a wonderful, heartwarming read.
The artwork was cute and rather reminiscent of a lot of shojo manga I've read. The characters are soft looking, with very pretty character designs. Backgrounds are a mixture of regularly drawn background and the sort of pretty bubbles and hearts that often grace the pages of shojo manga. The detailed backgrounds are always very lovely, particularly the pages depicting Yamada with her flowers. The plants aren't at all stiff. They're soft, pliable, and often seem as if the leaves and petals could begin to flutter in a sudden breeze.
If you are looking for a story that is well contained in a single volume this is most definitely one to put on your to-read list. If you are looking for a great F/F story, this is also a great manga to add to your TBR list. I would definitely recommend reading Kase-san and Morning Glories by Hiromi Takashima. Now, I believe there are other manga that follow these characters. I'm interested in reading these as well at some point. Hopefully, that day will be soon.