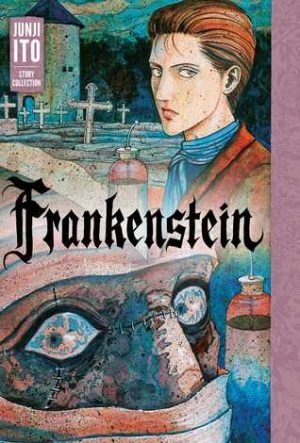 Frankenstein: Junji Into Story Collection
By:
Junji Ito
Release Date:
October 16, 2018
Publisher:
VIZ Media
Received From:
Publisher
(All reviews are our own, honest opinions.)
Rating:
If a manga bears Junji Ito's name you can be certain I'll be reading it. Recently, I received an early copy of Frankenstein: Junji Ito Short Story Collection by Junji Ito.
A caveat I want to note – the e-arc I received only had Frankenstein. There are two other short stories included in the collection. One of these is the Oshikiri story cycle, and I believe there is something featuring Ito's dog as well. Once I get a copy of the final copy this review will be updated to include my thoughts on this as well.
There is something wonderful about this version of Frankenstein, something only Ito can bring to the story. The story itself unfolds as expected. No liberties were taken with the plotting or characters as far as I can remember. (It has been quite some time since I've read the original). Ito's mark is left on the tale nonetheless, with his art making just as loud a statement as Shelly's original prose.
Watching Frankenstein's decent into utter obsessiveness over his experiments were wonderfully illustrated. The madness and complete disregard for his own wellbeing were so starkly depicted. This also posed a fascinating phenomenon. A decent number of pages pass without any of the fearsome, disturbing imagery that marks Ito's work. It is only later that the imagery begins to change. Frankenstein's face changes. Shadows and darkness creep onto the page. The corpses Frankenstein grave rob are terrifying rotting things that make the reader want to look away.
Despite reading the novel in the past, I've never found Frankenstein quite as scary as others have. It is a good book, yes, but I never found Frankenstein's monster especially frightening, not like the villagers within the pages of the book, at least. Yet, here, the monster breathes new life. This is a scary looking individual. The fact that this is a being composed of the dead is a concept so very well suited to Ito's style, and he does not disappoint in his rendition. The monster is rotting, putrid. It is not something of this world. And it is truly frightening.
Now, if you don't enjoy the original Frankenstein by Mary Shelly, your enjoyment of this might not be as great as other Junji Ito titles. This is a retelling of the original Frankenstein, after all. So do be aware of that going into the manga.
I really wish the early copy I received had the rest of the stories included. Ah well. I've spent money on much lesser things than a new Junji Ito title. Until I read the rest of the stories this will have to suffice as far as a review goes. From what I've read, Frankenstein: Junji Ito Short Story Collections is going to be another Junji Ito title you are going to want to put on your shelf.