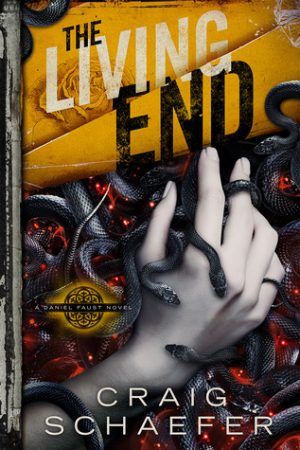 The Living End (Daniel Faust #3)
By:
Craig Schaefer
Website:
http://craig-schaefer-v2.squarespace.com/
Release Date:
August 27th, 2014
Publisher:
Demimonde Books
Series:
Daniel Faust Series
Rating:
  I know I'm terrible about posting reviews but as I get caught up in series books I always struggle about giving a proper review while avoiding spoilers. However, there is nothing terrible about book three in the Daniel Faust series and now, even months after reading them, I'm still obsessed. 
Okay so when the third book in a series begins with a prologue stating the main character is dead…well let's just say I needed answers. And you, the reader, do get answers, but you go through all the ups, downs, twists & turns to get them. And it's so worth it.
 We also see the return of Pixie early on which makes me so happy. Honestly, she might be my favorite minor character. And her concern for the homeless of Las Vegas just makes her a good person (ignoring the mercenary hacker angle) which makes me like her more. So when she calls Faust for help, the stakes just got higher. Add in the death of another character and the trap that explains why it was said that Faust was dead the book moves quickly, throwing Faust into another sticky situation…or three.
We got some quality time with a lot of other characters in this book and we see how their motives, connection to Faust and their personalities will continue to have an impact on where this series is going. Faust takes on a new issue in Vegas, disappearing homeless people, and is urged on by the golden-hearted Pixie to do something. And Faust, for all his flaws and issues, does indeed step up to the plate.  
We also get one villain taken care of, only to realize there are many, many more waiting in the wings for a shot at Faust and his friends. Again, I want to avoid spoilers but just know that the entire series always moves forward, something new is always learned and, you really can't beat the melding of action, emotion and humor in these books.  
There are certain quotes throughout this book that I just adore beyond all comprehension and a few of them are here to amuse and entrap you without giving too many spoilers.   
"Speaking of which, this 'Meadow Brand' person? As your attorney, I recommend killing her. Make it look like a drug overdose, maybe a gang shooting, something nice and unrelated, you know?"
"He let out a long, slow chuckle and took another sip of whiskey. 'I do so enjoy a man named Faust asking me about a deal. Makes me feel at one with history. Shame we can't talk business son, but you're already damned."
"I wasn't sure which way she'd lean in the end, which of her parents she'd take after, and I really didn't care. What mattered to me was that she knew she had choices, and she knew she was loved."
Suffice to say. You should read the first two books. And this one. And any books that follow.  Who doesn't love a damaged hero?