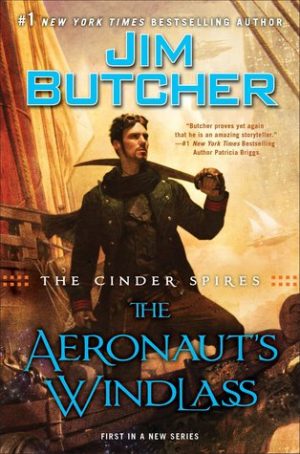 The Aeronaut's Windlass
By:
Jim Butcher
Website:
http://www.jim-butcher.com/
Release Date:
September 29, 2015
Publisher:
Roc
Series:
The Cinder Spires (Book #1)
Award:
Hugo Award Nominee for Best Novel (2016), Romantic Times Reviewer's Choice Award for Fantasy Adventure (2015, Goodreads Choice Award Nominee for Fantasy (2015)
Rating:
I finally, finally, read The Aeronaut's Windlass by Jim Butcher. This was another binge read. A whopping 570 pages in a day. And it was great. And I loved it. And you need to read it too.
The Aeronaut's Windlass is the first book in a new series by Jim Butcher. The tale is set in a fantasy world filled with airships and aeronauts, people living in giant spires far above the earth's surface, and a surprise attack that throws the country into immediate war. And it isn't like other fantasy series.
Yes, I said fantasy, and I'm sticking to it. I know that more than five hundred people have tagged this as Steampunk on Goodreads. I know some people who've complained because they expected a steampunk novel, which isn't what they got. So, what, exactly can we categorize this book as?
This is flying ships and aeronautics a la Final Fantasy, not anything remotely resembling steampunk. Nothing here is steam powered, and it isn't particularly Victorian. (For that matter it doesn't have a lot of science fiction in it at all; the book is much more rooted in the conventions of fantasy.) Everything is crystal powered. So Crystalpunk?
As soon as you open the book it grabs you by the hand and charges full steam ahead. It doesn't stop to give beautiful, yet wordy descriptions of the locations. It doesn't stop for any long infodump or exposition. I greatly respect this, especially in a genre ripe with infodumps. However, there were parts where I felt just a hint more of an explanation would have been prudent. This goes for descriptions of locations and what have you in general. I don't think I got as good a feel for the world as I really could have due to limited description.
I feel much the same about the characters. I liked them all. They were well written, likable, and sympathetic. As the book continued, we got a bit of development and insight into their past and personalities. However, this doesn't have the wonderful, extraordinarily memorable characters of The Dresden Files. However, this is only the first book in the series.
Much of the stories design and plotting reminded me of a JRPGs or fantasy anime. If you're a fan of JRPGs or anime you most definitely want to give this novel a try.
Overall, I enjoyed The Aeronaut's Windlass by Jim Butcher. It's a good start to a new series, and I'm excited to see where it goes.