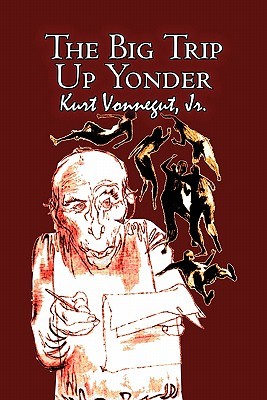 The Big Trip Up Yonder
By:
Kurt Vonnegut
Release Date:
January, 1954
Publisher:
Original Publisher: Galaxy Science Magazine
Rating:
Happy Throwback Thursday! This week we read The Big Trip Up Yonder. This is a short story by Kurt Vonnegut which was originally published Galaxy Science Magazine. These days it can be found in a myriad of books and eBooks, sometimes coupled with other Vonnegut short stories.
In this tale, we are set on Earth almost two hundred years hence, 2185, where aging has been conquered. No one grows older. No one dies. As long as you keep taking your anti-gerisone medicine, that is. Unlike other dystopian works, there is no population control method introduced at the same time, directly leading to the circumstances within the story. The entire family lives in a three bedroom apartment. Gramps, head of the family, gets to eat first and has the only private bedroom. The rest of the family – children, grandchildren, and great-grandchildren, all with their spouses, live on top of one another in the rest of the apartment. Gramps rules with an iron fist – perpetually revising his will to cut out and otherwise punish those descendants who upset him.
The story goes by quick, but leaves a punch. Certain ideas are, upon examination, rather horrifying. Who would want to live with four generations of your family in a handful of rooms with absolutely no privacy? And I liked the idea of the characters treating going to jail as a vacation – they get their own beds, many less roommates, and better meals at regular times.
Unlike some short stories, which can feel incomplete, this one is just long enough and doesn't leave any questions unanswered. The Big Trip Up Yonder is a fun, fast read, and recommended if you like dystopias, science fiction, or the works of Kurt Vonnegut.