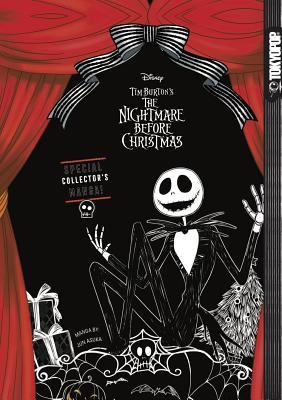 Disney Manga Tim Burton's The Nightmare Before Christmas
By:
Jun Asuka
Release Date:
November 22, 2016
Publisher:
TokyoPop
Rating:
It took an awfully long time for me to watch The Nightmare Before Christmas. Decades, in fact. I wasn't quite five when it came out, and my parents banned me from watching it on account of me being too scared. This was probably a smart move in retrospect as I vividly remember being terrified that Halloween by a fellow trick or treater dressed up as a ghost (quite literally a middle schooler under a sheet with two eye holes cut out). I ran down the block, screaming, and refused to believe it wasn't a real ghost. (Sorry, Dad).
Now, at long last, I can say that I have officially watched the movie. And read the manga.
November 22, 2016 will mark the release of Disney Manga Tim Burton's The Nightmare Before Christmas, written by Jun Asuka. This is a hardcover special collector's edition manga featuring the story of The Nightmare Before Christmas, published by TokyoPop.
For the most part, it's very good adaptation. The story remains relatively unchanged. The dialogue is good. Text from the songs weaves its way through the narrative. The humor and macabre charm of the movie are retained, and retained well.
However, every once in a while there is a line that makes you pause, and go 'what?' Translating fiction is more of an art than a science. Some words have no direct translation, and nuance can be lost. But this is not a translation. The movie the story is taken from was originally in English. And, even if these bizarre, grammatically baffling lines were in the movie, they simply cannot be retained in original form within the manga. This is, after all, a much different medium. Flaws in dialogue may not be immediately obvious, or else covered well by on-screen distractions or sheer acting skill. Manga, by and large, does not have such distractions.
The art is inconsistent. Some pages are beautifully drawn with immaculate detail. Other pages are virtually blank, with very little in the way of backgrounds. Backgrounds left blank had an odd effect on Jack and Sally's designs. With their long, thin limbs and extraordinarily round heads lack of background and context sometimes made them look more like stick figures than their iconic selves. This is a real shame because where the art shines is it is downright stunning.
Another aspect of the drawing style which was very interesting was the western style used. The western comic book style of shading, namely the myriad of dots, etc, we are used to seeing were used here. The blend of artistic styles worked very well and led to a unique, interesting combination. I really loved this design choice. However, like other aspects of this manga, it wasn't used everywhere, going suddenly missing with little discernible reason.
Where Disney Manga Tim Burton's The Nightmare Before Christmas shines, it really shines. However, the art and dialogue can be inconsistent at times. Still, I expect many fans of the movie will want a copy of this unique manga on their shelves.