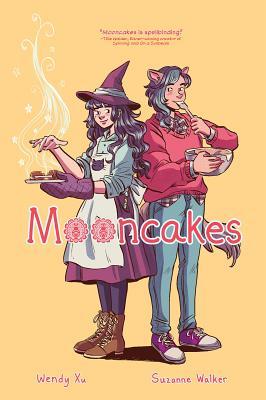 Mooncakes
By:
Suzanne Walker
Illustrator:
Wendy Xu (Illustrations); Joamette Gil (lettering)
Release Date:
October 15, 2019
Publisher:
Lion Forge
Received From:
Publisher
(All reviews are our own, honest opinions.)
Rating:
Family, love, acceptance, and trust are core themes of this graphic novel about a family of witches and a werewolf living in a small town. Mooncakes by Suzanne Walker, Wendy Xu, and Joamette Gil is equal parts and exciting tale of witchcraft and adventure and heartwarming story of love and family that is sure to melt the iciest of hearts.
Nova is a young woman living with her two grandmothers, learning the ways of witchcraft from them. An old friend comes back to town unexpectedly, and with her a secret cult, a demon stalking the forest, and feelings that never quiet went away. What ensues is a story of old friends reuiniting, blossoming love, and a story of magic.
The whole story takes place over the course of a couple of months. Even so, the pacing remains at a steady, somewhat subdued pace for much of the graphic novel. While there are plenty of scenes of magic and battles, the emotional focus remains on the characters themselves, their fears, their desires, and relationships for much of the graphic novel. These themes are balanced beautifully. On the one hand we have Tam who needs to learn how to trust and how to not run when things get bad. On the other we have Nova who needs to learn how to break out on her own a little more.
This is, at heart, a character driven story with much soul. Every character has a goal, something to overcome, or something to learn. A scientist friend learns to accept magic and all its bizarre inconsistencies with known physics.
A lot of people will find representation of themselves within Mooncakes as well. Nova is a young woman who's lost both her parents, is being raised by two grandmothers, and uses hearing aids. Tam has a strained relationship with her parents and is nonbinary. Their romance is beautiful and heartwarming, a story of childhood love returning years later and finally being fully realized and acted upon. It's a story with so many strong women – some who start out with wills as strong as iron, others who gain confidence along the way, and all of them wonderful.
The art in this graphic novel is absolutely wonderful. Characters are drawn with softer faces and in a slightly cartoonish style as opposed to being rendered very realistically. The softer palette filled with yellows, oranges, and purples evokes the autumn setting even when indoors. Backgrounds can be minimalistic at times. Mooncakes by Suzanne Walker, Wendy Xu, and Joamette Gil is a wonderful single volume graphic novel I highly recommend.