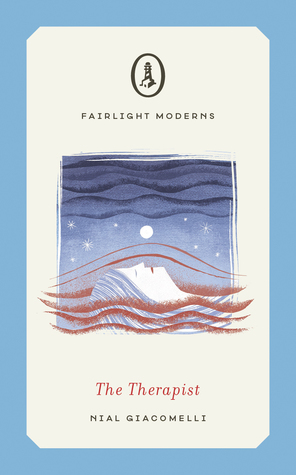 The Therapist
By:
Nial Giacomelli
Illustrator:
Sam Kalda
Release Date:
August 1, 2019
Publisher:
Fairlight Books
Rating:
A surreal novella by debut author Nial Giacomelli, The Therapist is a story of grief and loss, how it is processed, and how it affects us. The novella is a new addition to Fairlight Books Fairlight Moderns series, featuring a beautiful cover and art by Sam Kalda who has won and been nominated for awards such as The Society of Illustrators Gold Medal, the World Illustration Awards, and Young Illustrator Awards. Two guides, one for reading groups and one for writing groups, can be found for The Therapist as a part of the Fairlight Moderns series.
A very unreliable narrator gives a first person narrator of his time after a great tragedy. This, at first, is an unnamed event which is quickly realized as the death of his child. Specific details of the event as well as names are hidden or undisclosed when the story first opens. The past is a murky place filled with grief, hollowness, bitterness, and regret. Yet, it is illuminated in smaller bits and pieces as our unnamed narrator continues to recount the tale.
The majority of the story focuses on the narrator, his wife, and the therapist he is seeing. This is punctuated by greater, terrifying happenings on the news. In Oregon, people are coming down with some kind of strange disease where, following illness, the diseased simply disappear. A pandemic quick develops, playing out as newsreels behind the narrator's ongoing story. Not much concrete development is given to this secondary plot, leaving it out of the realms of science fiction or fantasy and remaining very firmly in the delightful and often murky waters of surrealist and speculative fiction.
The narrator is of an incredibly unreliable nature. It is through his eyes we see the world, his past, and his current life. It is up to the reader to pick apart the messy threads of the tapestry of words woven, and find the truth lying within. At times the narrator is seemingly open, seeing and acknowledging his flaws and his part in past and current events. At other times he is seemingly blind to what readers might find obvious, stating his words and actions in a matter of fact way, but not quite making a greater connection to himself and the current state of his world.
Beautiful prose makes The Therapist a delight to read. Despite how incredibly unreliable the narrator is, certain lines hold such power in their emotion, truth, and expert crafting of prose.
The Therapist is a well-crafted novella that explores grief, tragedy, depression, and learning to live with the past. Nial Giacomelli is a debut author with great command of prose and understanding of the human condition, and is certainly a force to watch in the future.