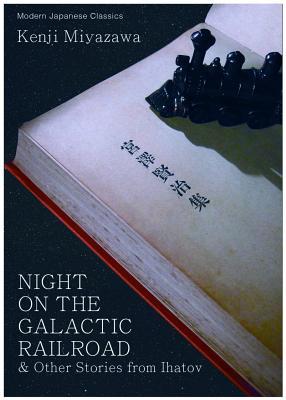 Night on the Galactic Railroad & Other Stories from Ihatov
By:
Kenji Miyazawa
Translator:
Julianne Neville
Release Date:
February 11, 2014
Publisher:
One Peace Books
Rating:
Night on the Galactic Railroad & Other Stories from Ihatov is a collection of poems and short stories by Kenji Miyazawa. The collection is a short one, filled with fantasy and fairy-tale-like stories.
The star of the collection is the collection's namesake. "Night on the Galactic Railroad" is both the most memorable and the most famous of Miyazawa's works. This story has true staying power, and is one that many will undoubtedly find greatly enjoyable. It is a fantastic tale of two boys on a railroad that travels the galaxy. A myriad of fascinating characters enter and exit the train in this tale of life and friendship. It is a story that speaks touches on things like loss, moving forward, and traveling through different stages of your life.
Several other short stories are also included in this collection, the majority of which feature anthropomorphic animals and objects. "The Nighthawk Star" is a wonderful fairy tale very much told in a traditional, Aesop-like manner. In this tale, a nighthawk goes from a lowly bird to a beautiful constellation in the night sky. Fans of myths and fairy tales will find a lot to love here.
"Signal & Signal-less" is the most surreal of the bunch by far. This story is a love story between two train signals who plan on eloping and moving to the moon. Fans of surreal fiction will certainly be intrigued, though readers who tend to shy away from the genre may find this a bit more difficult to follow.
Night on the Galactic Railroad & Other Stories from Ihatov by Kenji Miyazawa is a fascinating collection of speculative fiction works. Readers of short stories, translated fiction, and speculative fiction will want to check out this slim 112-page volume.