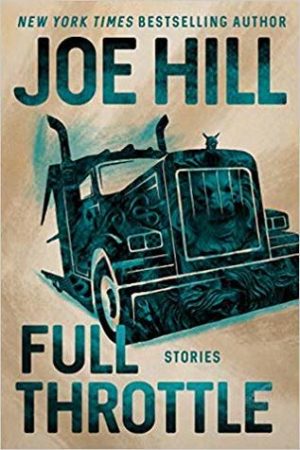 Full Throttle
By:
Joe Hill
Release Date:
October 1, 2019
Publisher:
William Morrow
Received From:
Publisher
(All reviews are our own, honest opinions.)
Rating:
Decorated horror writer Joe Hill brings us a tome of short horror fiction titled Full Throttle. There are thirteen stories in total within this anthology, which is quite an apt number for a horror collection. The first tale, "Full Throttle" is co-written by Stephen King, the author's father. It's also the basis for a Netflix film, so readers who find themselves fans of this story will have more to look forward to.
Each story brings a new tale with new characters. As with all anthologies, some tend to be more memorable than others. Unfortunately, none of these stories had the staying power other works by the author tend towards. Of course, some stories were more memorable than others, such as the first short story in the volume. However, others tended to drift towards the sort of fare that is fun in the moment but winds up being largely unremembered or never revisited down the line.
In all, they simply weren't quite as memorable as other works by Hill. While good reading in the moment, many aren't stories that have that irresistible draw that both Hill and King tend to have. Largely, many readers will inevitably turn towards other works by Hill.
The book has both an introduction and section with story notes and acknowledgments that are, in many ways, much more memorable than some of the short stories themselves. The story notes in particular might be of interest to many readers. Each story has a bit of a blurb, a compilation of interesting facts involving that tale, and a little of the story's history outlined. Behind-the-scenes and interesting factoid-type things are often left to the realms of author's websites instead of the book itself, so these will be of particular interest to many fans. We don't always get this sort of insight into writing specific stories from the author's point of view all, and getting the chance to see into their process is something rare and wonderful.
Fans of horror or short stories may want to check this title out. Fans of Joe Hill or Stephen King will undoubtedly want to pick this up and keep it in their collection. Full Throttle by Joe Hill was a good read, lending itself well to the late-fall landscape.