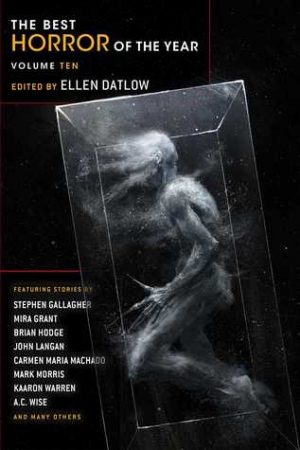 Best Horror of the Year Volume 10
By:
Ellen Datlow (Editor)
Release Date:
June 5, 2018
Publisher:
Night Shade Books
Rating:
For well over a decade, award-winning editor and industry giant Ellen Datlow has been compiling the year's best short horror fiction. Best Horror of the Year Volume 10 collects over 400 pages of the best horror printed in prior publications during 2016. Featuring a wide variety of authors and publishers, there is a little bit of everything the horror genre has to offer within these pages.
One of the best aspects of all-encompassing anthologies such as this one is the ability to find a very wide range of stories centered around a singular genre, theme, or idea. Of course, this also does mean that readers may find a wider variance on stories they love and those they don't. Even so, many readers will find this edition of Best Horror of the Year quite enjoyable, even if every story isn't exactly what they normally search for in horror.
Some stories are very clearly horror, wearing the badge very proudly and very visibly. Some of the other stories have a quieter, seeping series to them. Unease builds slowly before a turn for the worse, where the more overt horror aspects shine in brilliant fashion. In particular, "Shepard Business" fit this theme wonderfully, sneaking up on the reader right at the end for a true oh dear sweet baby yoda moment.
Fans and followers of Datlow's works and anthologies will most likely recall certain tales she's edited and published elsewhere. As a Best of collection, many genre fans will have undoubtedly read at least a few of these before. However, all are wonderful tales for second read through, and those who want to complete their collections will want to add this enormous volume of Best Horror of the Year Volume 10 to their shelves.