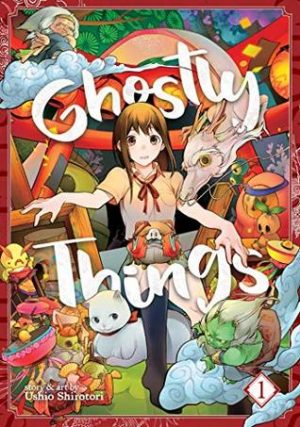 Ghostly Things, Vol. 1
By:
Ushio Shirotori
Illustrator:
Ushio Shirotori (Illustrator); Rina Mapa (Lettering)
Translator:
Nova Skipper (Translator); Clint Bickham (Adaptation)
Release Date:
October 1, 2019
Publisher:
Seven Seas
Series:
Ghostly Things #1
Received From:
Publisher
(All reviews are our own, honest opinions.)
Rating:
The start of a new series, Ghostly Things, Vol. 1 by Ushio Shirotori is a paranormal fantasy manga featuring a teenager in a new (and probably haunted) house.
Yachiho's father is overseas, meaning she moves into the large, new house that's supposedly haunted. Quickly, she finds that it is indeed haunted—spirits abound, there's a huge underground library, and her father might have bought this house for a specific reason. Beneath the house in the long corridors and library is a crossing to the Spirit Realm, attended to by its guardian, Moro.
The majority of chapters feature Yachiho exploring her new home, getting to know Moro and the spirits that share her living space, and searching for The Book of the Dead. Many chapters have a distinct slice-of-life tone. With Moro's help Yachiho learns about the different yokai, who they are, and how to help them.
However, early chapters are guilty of feeding Yachiho information and having Moro do the majority of the work. It is only in later chapters that Yachiho begins to truly get herself fully involved, having true connections to different yokai and a real sense of wanting to help them however she can. Eventually, though, Yachiho begins to grow as a character and gains more personality.
Pacing is a bit irregular throughout the manga. Pertinent elements of the overarching plot tend to be told very quickly, sometimes as if needed to get out of the way for the slower chapters featuring some sort of spirit that needs assistance. These chapters tend to lean more towards an almost slice-of-life feel. While both aspects are interesting and fun to read, the series hasn't yet truly found its footing in this aspect yet.
The closing chapters of the manga are, perhaps, some of the most intriguing. Stakes are risen. Yachiho begins to find her place, and the plot a little more driven. While this first volume had to find its footing, future volumes look well set up, and I am quite interested to see what sort of direction the series will take.
Those who love reading about yokai, slower pace paranormal stories, and fans of series such as The Morose Mononokean would definitely enjoy checking out Ghostly Things, Vol. 1 by Ushio Shirotori.