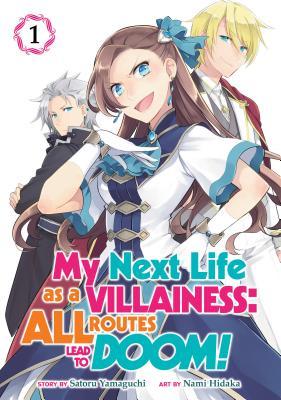 My Next Life as a Villainess: All Routes Lead to Doom! Vol 1
By:
Satoru Yamaguchi
Illustrator:
Nami Hidaka
Release Date:
August 6, 2019
Publisher:
Seven Seas
Series:
My Next Life as a Villainess
Received From:
Publisher
(All reviews are our own, honest opinions.)
Rating:
Isekai and otome combine in 2019's manga My Next Life as a Villainess: All Routes Lead to Doom! Vol 1 written by Satoru Yamaguchi and illustrated by Nami Hidaka. This is the manga adapatation of a light novel of the same title, publishing by J-Novel Club, and is set for an anime adaptation during the Spring 2020 season.
A high school girl winds up being reincarnated, not as a hero in some other world, but as the villainess from her favorite otome visual novel. Catarina Claes is the daughter of a duke, a noblewoman who wants for nothing, is spoiled by her parents, and gets whatever she wants. Things might be fun and games now, but the Catarina knows her fate. It's either death or exile waiting at the end, and she doesn't want either. There's only one thing to do—change fate!
There are a great many isekai, and a growing number of them focus on the protagonist being a bit more of a villain than one of the good guys. In many ways, My Next Life as a Villainess tries to buck the known tropes of the genre. Catarina is the villain, or she's supposed to be. The story is told from her viewpoint beginning when she remembers her old life in our modern world.
The world Catarina now lives in is one filled with magic. She can control earth, but not to a very great extent and quickly tries to learn more. Instead of the medieval themed isekai landscape, however, readers are treated to a world much more Victorian in nature. Houses are large and ornate, modern conveniences are still unheard of, and fluffy, frilly dresses abound.
Here is Catarina's problem. The more Catarina changes her actions, the more the world changes around her. The stories she's known from different game routes slowly being to change, perhaps disappearing entirely. Changing how she behaves or befriending new people have unforeseen consequences. Due to either fear, nerves, age, or personality, Catarina can't always see how her actions have changed people and scenarios. There's a lot of worry and tension, some of which can be boiled down to Catarina's own anxiety rather than the actions of those around her.
Those who've played otome games, or even visual novels in general, will get the most out of this series. While humorous in its own right, certain sections will be funnier to those with more experience playing these games. Reader's expectations are played with throughout the manga.
A truly entertaining read, My Next Life as a Villainess: All Routes Lead to Doom! Vol .1 by Satoru Yamaguchi and Nami Hidaka is certainly a series I will be continuing reading. Fans of otome are sure to love this series and the isekai fandom at large will have plenty to enjoy as well.