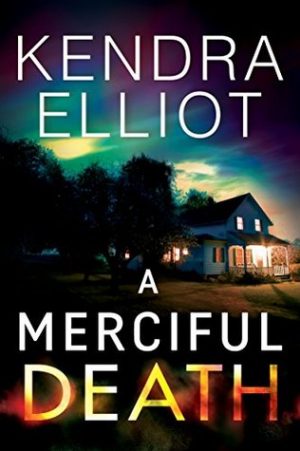 A Merciful Death (Mercy Kilpatrick #1)
By:
Kendra Elliot
Website:
https://www.kendraelliot.com/home/
Release Date:
January 17th 2017
Publisher:
Montlake Romance
Series:
Mercy Kilpatrick
Rating:
Mercy Kilpatrick is everything you want your main character to be. An interesting past, a badass set of skills, intelligent, honorable and a good heart.
However, in the first book in the series we learn one of Mercy's biggest secrets- FBI Agent Mercy Kilpatrick is secretly a doomsday prepper.
Raised in a family that also preps and trained to live off the land and through immense struggle she is extremely self-reliant and, even though she has been cut off from her family for many years Mercy cannot shake the habits. When a series of murders begin taking place in Mercy's hometown she is sent by the FBI to assist in the investigation. The victims of the killer are all like Mercy and her family, survivalists, and these attacks are not going to be tolerated by anyone. Police Chief Truman Daly, a family member of one of the victims and new to the town, joins up with Mercy to track down the killer and make the town safe again.
As Mercy struggles to do her job, dance around the awkward feelings of returning to the town and family that shunned her and fly under the radar as much as she can with FBI emblazoned on her chest we see her coming to terms with a lot of emotional challenges fairly quickly.
Does that mean she's invincible? Heck no. Kendra Elliot does a fantastic job of ticking many super awesome boxes for Mercy but still makes her vulnerable, believable and someone you want to cheer for.
"Mercy looked ready to dissolve into a puddle of stressed-out-special-agent goo."
I don't want to speak too much about this book because all the plot twists, surprises, secrets and amazing moments are spoilers but, if you're anything like me, this series will be right up your alley.