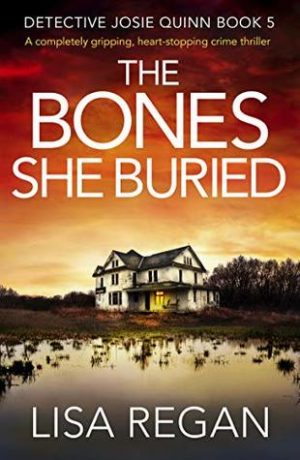 The Bones She Buried (Detective Josie Quinn #5)
By:
Lisa Regan
Website:
https://lisaregan.com/
Release Date:
March 27th, 2019
Publisher:
Bookouture
Series:
Detective Josie Quinn
Rating:
Five stars for Josie Quinn on this book! Also, there is no way around the spoilers in this book as we talk about it so, you have been warned.
Noah, Josie's new(ish) boyfriend is bringing Josie over for dinner at his mother's home but when they arrive things are all wrong and Noah's mother Colette is found dead in the back garden.
Aside from the obvious devastation and turmoil a death can bring Josie is suspicious that it was a murder, especially when the find connections between Colette and a missing person, Drew Pratt.
My hatred of Josie has officially shifted to Noah's sister Laura. And the hatred has doubled. Laura is cold and standoffish to Josie, right before she is outright rude (suggesting that Josie brings trouble and that Josie and Noah should "take a break" all while preparing for and attending the funeral for Colette.
In short; what a b****.
There's a new killer on the loose and Josie is hot on their trail but with everything tying back to Noah and his family she's in a time crunch, rushing to find answers before someone else she cares about dies.
Book number six, Her Silent Cry is out now and on my to be read pile. We'll see how quickly I can get to it. The struggle of series, other than the immediate obsession, is the fact that when you are into other books when a new book comes out you have to find the right time to dive back into it all. I'm sure I won't wait too long to rejoin Josie's world.