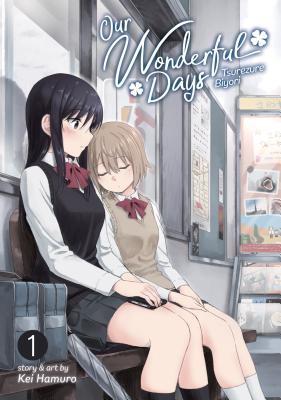 Our Wonderful Days, Vol. 1
By:
Kei Hamuro
Illustrator:
Kei Hamuro (Art); Erika Terriquez (Lettering & Retouching)
Translator:
Katrina Leonoudakis (Translator); Asha Bardon (Adaptation)
Release Date:
November 12, 2019
Publisher:
Seven Seas
Series:
Our Wonderful Days #1
Received From:
Publisher
(All reviews are our own, honest opinions.)
Rating:
Also known as Tsurezure Biyori, new series Our Wonderful Days Vol. 1 by Kei Hamuro is a sweet slice-of-life yuri manga that is perfect for all lovers of romances and slice-of-life stories set in schools. Once childhood friends, Koharu and Mafuyu drifted apart after Mafuyu moved when they were still young. Now in high school, those seem like distant days. But when Mafuyu moves back to town, she reconnects with Koharu. And, now that their grown, Koharu can't help but start falling for her friend.
This is a high school slice-of-life manga that takes its time in developing characters and setting. A small, sleepy town far away from the busy streets of the city Mafuyu's just moved from is the backdrop for the tale. As she adjusts to life in the town she spent her childhood in, she reconnects with old friends, meets new ones, and gets used to a new school. This is a very character driven manga, with much more emphasis placed on the two leads and their two friends as opposed to any overarching goal they may have – a true slice-of-life.
A slow burn romance lies at the heart of things. Koharu and Mafuyu reconnect as friends first. Slowly, they begin to fall for one another. Feelings are kept to themselves, neither saying anything overt to the other in regards to their crushes in the first volume. However, it is very apparent to the reader that burgeoning feelings are there.
Koharu and Mafuyu aren't the only potential f/f romances either. Nanaya and Minori are two of Koharu's friends, and fairly prominent characters within the manga. These two are sharing an apartment, and there seem to be some kind romantic feelings here as well. Alas, Nanaya can be a little bit oblivious, so it's probably fair to expect a slower burn romance here as well.
Plenty of school shenanigans occur as well. We see Mafuyu integrating herself back into the community she moved away from, and getting to know Koharu's friends. There's a bit of jealousy on Mafuyu's part in regards to Nanaya and her close friendship with Koharu, leading to interesting and funny situations.
This is an all-around sweet, fun manga focusing on girls and girls in love with girls. This is the perfect manga for people who like slow slice-of-life, f/f, or school days stories. I highly recommend picking up a copy of Our Wonderful Days Vol. 1 by Kei Hamuro.