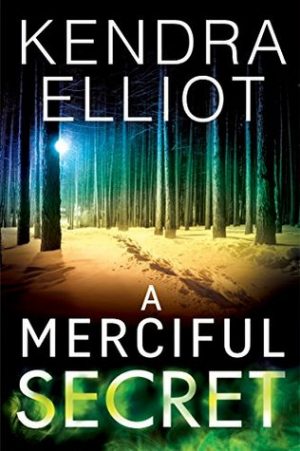 A Merciful Secret (Mercy Kilpatrick #3)
By:
Kendra Elliot
Website:
https://www.kendraelliot.com/home/
Release Date:
January 16th, 2018
Publisher:
Montlake Romance
Series:
Mercy Kilpatrick
Rating:
Book three in a series for me is usually make or break. If you've kept me interested in two books so far and there are more books to go, usually the third book is where I decide if I want to go forward or not. With Mercy Kilpatrick, I was sold on this third book. While the story didn't drive me as intensely as the previous two books I still had a hard time putting this book down.
As a FYI, there may be some spoilers in this review. You have been warned.
When driving back from her hidden cabin Mercy encounters a young child whose grandmother is in another cabin nearby, dying after a physical assault and slashing. The girl's mother is no where to be seen and Mercy's hackles are up instantly. She wants to help but also has to be careful when it comes to trusting strangers who are also quite secretive.
Mercy, at first, is considered a witness and nothing more but when a federal judge is also attacked in a similar matter it becomes an FBI case and Mercy weasels her way back into the picture.
We see the continuation of Mercy and Truman's relationship as well as the story line surrounding Mercy's sister Rose who, honestly, may be more badass than Mercy in how she handles every difficult thing thrown her way like an absolute champ and doesn't let her being blind or the attack on her in previous books dull her shine. Really, Rose is not to be messed with.
At the end of the day, when I finished this book I had to sit back and admire Mercy for her determination to right the wrongs of the world and her willingness to absorb scorn and abuse in her hometown and from her own family for the greater good. At time Mercy seems unreal in her abilities, both mental and physical, but I'll give it a pass simply because Kendra Elliot's writing is so amazing, the plot twists keep me flipping pages and the characters are compelling enough to make me gasp out loud or ignore everyone around me in favor of reading about their fate.
Overall, book three is a success and it kept me going on this series. If you've read the first two, it will probably do the same for you. I do not recommend any book in this series be read as a standalone (except for book one) because each book gives us new insight to the characters and the world they live in.