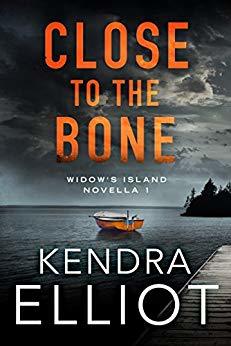 Close to the Bone (Widow's Island #1)
By:
Kendra Elliot
Website:
https://www.kendraelliot.com/home/
Release Date:
October 23, 2018
Publisher:
Montlake Romance
Series:
Widow's Island
Rating:
Let me start this review off, for the first book in this series, to say the following- Kendra Elliot and Melinda Leigh both worked on this series together and going forward I will only put the author of the particular book. Just remember that both of these amazing authors had a hand in the entire series. Another item to note is that characters here also connect to characters in another joint series by these authors, the Rogue River series.
So, onto the book now! Cate Wilde has returned home as a FBI agent while her old friend Tessa Black has become the the deputy. They meet under less than ideal circumstances as they are working to solve the case of a suspicious death of a teenager. To make matters worse, Cate and Tessa had a third member of their friend group, Samantha, who has been missing for twenty years. With emotions pulling both Cate and Tessa back and forth as they try to do what is right without disregarding or hyper focusing on their past we see how the pair must rely on each other, even after all these years.
The mystery and suspense kept me turning pages and while there are hints of romance in this novel there isn't a ton which, for readers who like the story idea but not a romance novel, you're in luck as this is 98% mystery and 2% romance.
Another thing readers may enjoy is that these stories are relatively short, bordering on novella length (Close to the Bone is 94 pages) so you get a lot of bang for your buck in the short quick reads. Again, this is a testament to the authors for being to deliver so much within the page limits of this series.