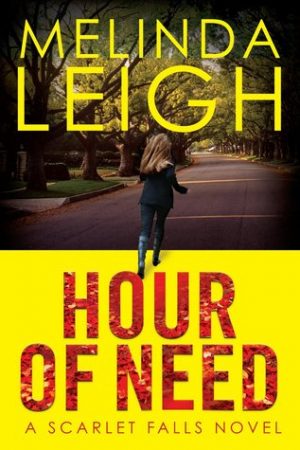 Hour of Need (Scarlet Falls #1)
By:
Melinda Leigh
Website:
https://melindaleigh.com/
Release Date:
December 9th, 2014
Publisher:
Montlake Romance
Series:
Scarlet Falls
Rating:
My absolute obsession with Melinda Leigh continues! This series, focusing on different couples in the fictional small town of Scarlet Falls but while the town may be imaginary the characters and the plot feel intense and real.
I never thought of myself as a person who likes romance novels but here I am reviewing yet another romantic suspense novel. I guess if you add crime, thrillers and murder I'm into romance (and doesn't that sound awful?)
Major Grant Barrett returns to Scarlet Falls to take care of his orphaned niece and nephew. Their orphan origin story is sinister, both parents killed, and Grant, dealing with his own trauma must now become a parent and adjust to civilian life.
The chaos is turned up a notch when his brother and sister-in-law's neighbor and friend, Ellie, becomes the target of threats and attacks as well. Ellie, desperate to protect herself and her own daughter Julia and her aging grandmother, affectionately called Nan.
Drawn to each other through the trauma of the murders and attacks, as well as the romance angle (of course) the two characters work together to try and keep everyone they love safe and get justice. Objectively, I know a member of the military and a paralegal shouldn't be investigating murders and crimes but the part of me that loves the suspense artfully overlooks this.
The sense of trauma and loss is strong in this book and I found myself feeling true heartache for the characters in the book, particularly Lee and Kate's kids Carson and Faith. Carson, trying to be the strong big brother is only four and is latched tightly to his uncle after the shock of losing his parents. If you know me in real life, you know that kids are a soft spot of mine and seeing them come into play in this novel was a one-two punch to my softie heart.
Credit goes to Melinda Leigh for artfully weaving together these tales and for giving us backstory without beating us over the head with it. As with most series in the romance genre we will soon learn more about Scarlet Falls and the other couples within it as this is book one of three and, wouldn't you know it, Grant's other siblings Hannah and Mac are single. We'll see where this series takes us but I think it's safe to assume that if Melinda Leigh or Kendra Elliot are writing it, I'm going to look beyond the Romance tag and dive right in.