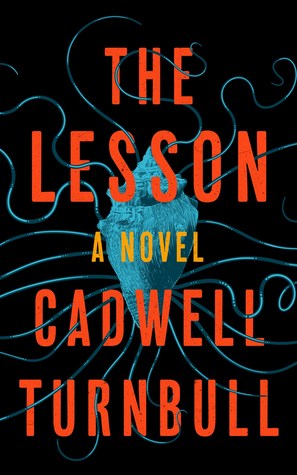 The Lesson
By:
Cadwell Turnbull
Release Date:
June 28, 2019
Publisher:
Blackstone Publishing
Award:
Audie Award Nominee for Science Fiction (2020)
Rating:
First contact with aliens is breathed new life in Cadwell Turnbull's novel, The Lesson. While this is Turnbull's first novel-length work, his short fiction has appeared across the web and in literary magazines such as Asimov's Science Fiction and Lightspeed. His work has also been included in The Best American Science Fiction and Fantasy 2018 and Year's Best Science Fiction and Fantasy 2019.
Turnbull's novel takes a common theme in near future science fiction and brings us quite a different experience than what we commonly find in first contact stories. The normal cityscapes and bustling metropolis' aliens tend to land in popular fiction and television aren't to be found. Instead, the tale is set in the Caribbean on the island of St. Thomas in a small, everyday town.
The story opens during the days leading up to Earth's first contact with extraterrestrial life, only to continue five years later. The first meeting between humans and aliens, along with the direct aftermath, are passed over entirely. This gives a very interesting look at first contact, not just in location but also concerning how society and people change (or don't change) after aliens have integrated into the society of St. Thomas. Instead of seeing the initial reaction to humanity meeting a race of peoples from the stars, we see the cultural fallout in the years directly after that. Some reactions are blatant; there's massive distrust of the Ynna and those humans who work or sympathize with them. Societal changes aren't always as overt, though. Anthropological changes are also afoot. The line between science fiction and reality has blurred, leading to academic debates on where books and movies are now best categorized and approached. Humanity as a whole and the citizens of St. Thomas in particular, must decide how they are to move forward.
Despite getting a broader view of the societal change the Ynna have spurred, the novel gives us a close look at the situation from two family's points of view. Both live within the same house, a two family home with a growing, changing family. The relationships of these characters are all approaching tipping points at the start of the novel prior to first contact. Change is inevitable and only further exacerbated by the Ynna's presence. Derrek, a teenager living with his grandmother and younger sister, is a fan of science fiction and mythology. Patrice is the opposite, following the more cultural traditions and is fairly religious. Jackson, Patrice's father is a teacher grappling with advances from a former student and a distant wife. Aubrey, Jackson's wife, meanwhile grapples with her feelings towards her husband and her coworker Alice, who once kissed her during a night out.
All of these characters manage to evoke a sense of sympathy from the reader and are quite easy to distinguish from one another. Their lives are wound together in knots upon knots, even as they try move apart from one another or begin to change.
Uncertainty and change are brewing in all of their lives. This uncertainty is echoed within the larger community. St. Thomas sits on the knife edge of change. One wrong look or perceived hostility on the part of the locals means swift, violent retribution by the Ynna. People have been killed. A dog was ripped in half. Fear, uncertainty, and—despite the circumstances—hostility fester.
Colonialism is a major theme in this work, as the above might make you think. Doubly so, in fact. The Ynna most involved with the story is Mera, sent long before the rest of her brethren. Sections of her past are told as flashbacks, in which she was living the life of a slave, learning about the world and society she found herself in. Modern echoes abound as the story progresses, providing commentary on colonialism on a more literal and historical level as well as on a broader anthropological scale.
A slower pace and closer look at the consequences of first contact on these two families makes up the majority of the novel. As events begin to snowball, the pacing picks up, culminating in a fast-paced ending. The title's 'lesson' becomes more of a driving force in these later chapters. Yet, this lesson isn't quite spelled out for the audience. Even so it becomes rather apparent. Or, perhaps more aptly, several lessons. Different aspects will certainly stand out for different readers, and, I suspect, will provide somewhat different reading experiences as well.
The Lesson by Cadwell Turbull is a fantastic addition to science fiction. With so much emphasis on characters, the story of these families within this particular situation, this would be a fantastic place for readers of more literary fiction and slow, character driven novels set in contemporary times to delve a little farther into science fiction.