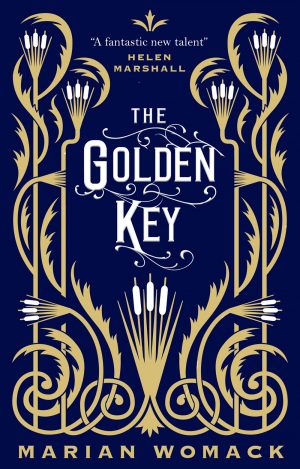 The Golden Key
By:
Marian Womack
Release Date:
February 18, 2020
Publisher:
Titan Books
Received From:
Publisher
(All reviews are our own, honest opinions.)
Rating:
Traditional Victorian gothic is mixed with elements of mystery and fantasy in The Golden Key by Marian Womack. In this, as of yet, standalone novel, the supernatural clash against psychology and detective work. Underneath that lies something more than the Victorian indulgence for séances and tarot readings. There's something uncanny happening, something that can't be explained by normal measures but can be felt and seen nonetheless.
The book is told from multiple viewpoints—a young man with a strange past, a lady scientist, and a lady detective. The setting takes place in the quiet solitude of the English countryside. Stately, moldering manors, Tudor ruins, and foggy landscapes make for quite a vivid setting.
The great change and upheaval of the era can also be felt here. The suffragette movement, the questioning of mediums' powers even amidst their continued popularity, the influence of science and methodology frame the story. Characters tend to lean towards different ideologies and beliefs, their actions and personalities formed around these.
Overall, I quite liked the characters. Helena, our main character, certainly stands out among them. I did wish we saw a little more into some of their personalities a bit earlier on in the novel—Lady Matthews in particular comes to mind. By and large, though, all were quite memorable.
While much of the earlier parts of this book do read like an historical mystery novel, this most certainly falls within the realms of speculative fiction. Fantasy is not simply relegated to the realms of mysteries found in old mansions or the realms of magical realism. There is something very real here, fantastic in a literal sense, but dark as well. This isn't a friendly kind of magic—if that is what it is—and is something frightening that local inhabitants like to pretend they don't see.
This creates an interesting caveat. Helena, the detective trying to solve a twenty year old cold case, is faced time and again with things distinctly otherworldly. An obvious clash of beliefs occurs, leading both Helena and the reader down unexpected paths—and ones some don't necessarily want coming to light.
That said, The Golden Key certainly feels gothic in nature. There is a darkness that creeps in at the edges, a sense of foreboding and forlornness. Old secrets abound, especially ones that aren't so much secrets but the undiscussed dark times of days long gone and best forgotten.
The epilogue ties ongoing mysteries together nicely, while leaving a bit of wiggle room for more. I really enjoyed The Golden Key by Marian Womack, and would certainly join Helena on any further mysteries she is required to solve.