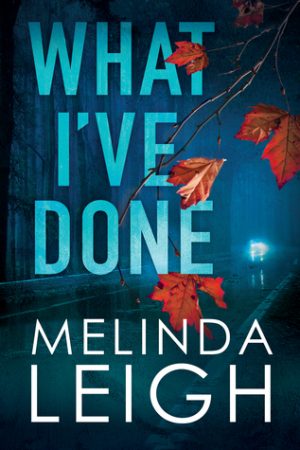 What I've Done (Morgan Dane #4)
By:
Melinda Leigh
Website:
https://melindaleigh.com/
Release Date:
September 18th, 2018
Publisher:
Montlake Romance
Series:
Morgan Dane
Rating:
Book four kicks off pretty fast and the pace doesn't slow down at all. When Haley Powell wakes up, covered in blood, feeling sick in a strange house and a dead young man is in the yard she can't remember what happened but fears the worst. Morgan, Lance and Sharp must work to find the truth before it's too late.
The emotional heartstrings are tugged in this one, especially as we see more of Sharp's softer side as it turns out Haley is the daughter of Sharp's former partner when he was on the police force. We see the determination of Sharp to protect his friend's family and we see how cruel the public can be when assumptions are made.
As always we see the normal pattern in these books where, as Morgan, Lance and Sharp get closer to the truth, the real killer is out to stop them and is trying to sabotage Haley's defense at every turn. The question becomes about whether they can save themselves as well as Haley before they all lose in this dangerous quest for the truth.
I enjoyed how with this case we were as in the dark as Haley was about what had happened and as pieces come back together we are just as shocked, troubled and confused as the team is. Also, learning more about Sharp I couldn't help but get warm fuzzies for the character as, just like his name, he isn't super soft or cozy, always very to the point and business like. Over time Melinda Leigh has allowed us to see bits of Sharp that aren't so tough and rugged, especially when it comes to Lance and now Haley. I enjoyed getting to know him better and seeing some depth to him.
Of course we have the central romance of Lance and Morgan but I cannot stress enough how much I love that their romance is understated. Yes, throughout the book, we see how their attraction to each other is obvious and we know that they are each other's true pair in this world but they aren't running off to have inappropriate sex at random hours of the day and their connection is beyond the physical. They support each other fully and work to keep the other's spirits up when times are tough.
While the books can technically be read as stand alone, meaning you don't need to go back to book one in the series to understand book four, I would suggest you do as the continued character growth and background with the characters makes the process of reading that much more fulfilling.