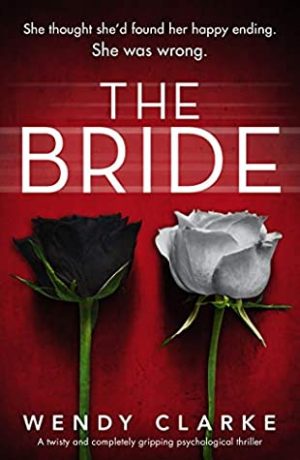 The Bride
By:
Wendy Clarke
Website:
http://www.wendyclarke.uk/
Release Date:
May 20, 2020
Publisher:
Bookouture
Rating:
When I saw this title on NetGalley, I was intrigued. The summary of the book led my thoughts down a path of "what-ifs" and I was thrilled when I received the approval.
The book summary read as follows:
The moment Joanna told me she was engaged, I had this awful feeling that something was wrong.

We used to speak on the phone every day. Growing up I spent more time at her house than I did at my own. I'd always imagined what it would be like to see her get married, and now I didn't even know her fiancé's name.

She asked me to come and meet Mark and I intended to tell her to slow down. You can't know someone for a month and be sure that you want to spend the rest of your lives together.

When I got to Joanna's front door, only Mark was there. He was charming and gorgeous and nothing but nice to me, and I started to understand.

And then he told me that Joanna was missing.
So, right up my alley, right? Right. So why is this only rated three stars on Goodreads and here? Simple. The writing style didn't work for me. I felt that the narration through Alice's eyes was interesting but it felt as though the author was trying so hard to make us doubt Alice and be unsure of her/ her motives that she really just annoyed me. And with the entire book up until chapter 29 being from her POV I was frustrated by her the entire time. I enjoy when we don't get the character's entire life story up front but it felt as if the tension was put there for the sake of having tension. It did not endear me to Alice or connect me to her in that way, instead I just wanted answers.
Still there were MANY positives to this book and I don't want to overlook those in this review.
First; the genre. Yes, that's my opinion that thriller books are amazing but, really, if you enjoy the genre you'll like the mysteries in this book.
Second; the cast of characters. There were enough characters in the book to give me suspects, background and interest in the truth. I was told enough about each of them to like/dislike the character, to trust or mistrust them and to worry for their safety as the book continued.
Third; the MAJOR plot twist at the end. So much happened with the introduction of the second narrator and, while for a while I was frustrated with both Alice and the second narrator, I was soon shocked into a reading frenzy of needing to understand and to get the answers. The final pages of this book knocked me on my butt and may have ended up saving this entire book for me.
Thank you to NetGalley & Bookouture for allowing me to read an advanced copy of this in exchange for an honest review.