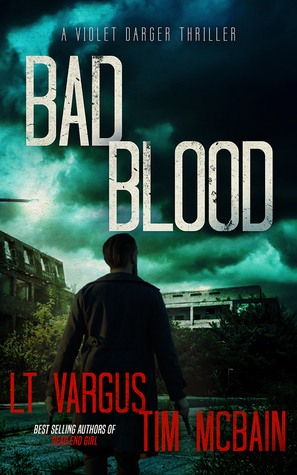 Bad Blood (Violet Darger #4)
By:
L.T. Vargus & Tim McBain
Website:
https://ltvargus.com/
Release Date:
June 23rd, 2018
Publisher:
Smarmy Press
Series:
Violet Darger
Rating:
Book number four and whoa am I impressed with this installment. In rural Michigan a man has been killed in a mafia-style hit and Violet and Loshak show up to try and figure out how a small town man ended up dead.
Not everything in the small town is as it seems, not the victim, the people or the town as a whole. There are a lot of questions going on and Violet has to sort through all the lies and deception to get to the truth.
With organized crime and corrupt police to contend with I really wasn't sure how this story would end and who would still be alive. With each book the series becomes more intense and I enjoyed every page of this book.
Also, thank you to the authors for giving Violet realistic complications since her last life-or-death situation in book number three. If she had come back "brand new" I would have tossed the book aside and never finished it.
For now I'm going to take a break from Violet and Loshak but I will definitely be returning. At the time of this review there are 6 books total and two novellas so I've got some catching up to do. If you're looking for interesting reads and a quick series I would definitely suggest this collection.