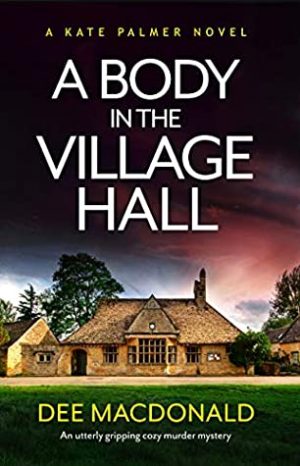 A Body in the Village Hall (Kate Palmer #1)
By:
Dee MacDonald
Website:
https://www.fantasticfiction.com/m/dee-macdonald/
Release Date:
June 29th, 2020
Publisher:
Bookouture
Series:
Kate Palmer
Rating:
This is a slight departure from my normal mystery reads because, while this is a mystery (surrounding murders) this book falls into the genre of Cozy Mystery. Let me quickly define this for anyone who doesn't know what this means.
Cozy mysteries, also referred to as "cozies", are a sub-genre of crime fiction in which sex and violence occur off stage, the detective is an amateur sleuth, and the crime and detection take place in a small, socially intimate community.
This wonderful book by Dee MacDonald checks all of those boxes perfect. Sex & violence offstage- check. Amateur sleuth-check. Crime and detective work in a small, social community- check.
When I first heard about cozy mysteries and learned more about them I was interning at Bookends Literary Agency and a good portion of the authors they represented were authors who fit into this cozy mystery genre. While there I grew to love them as I get the mystery and crime fix without reading the gory details. Yes, even sometimes I need a break. This book was a fresh reminder as to why I need to get back into this sub-genre.
Kate Palmer, our main character, is a divorced woman that moves to Cornwall, England from London with her sister Angie in search of a quieter life. Kate works as a part-time nurse at the local medical center and is encouraging her sister to connect with the locals through their events. While at a talk about gardening a woman is found dead in the village hall.
Through this murder we meet Detective Inspector "Woody" Forrest who, also slightly older, is looking to solve this case and retire. The pair are drawn to each other on a personal level but know that the larger concern is solving this crime. Kate, our amateur sleuth, wants to solve the case and gets herself into a few sticky situations along the way.
With plenty of suspects, interesting plot points and a town full of mysteries A Body in the Village Hall is the ideal introduction for anyone who may want to try out the cozy mystery sub-genre.
Many thanks to Bookouture, Dee MacDonald and NetGalley for the chance to read this ahead of publication in exchange for an honest review.